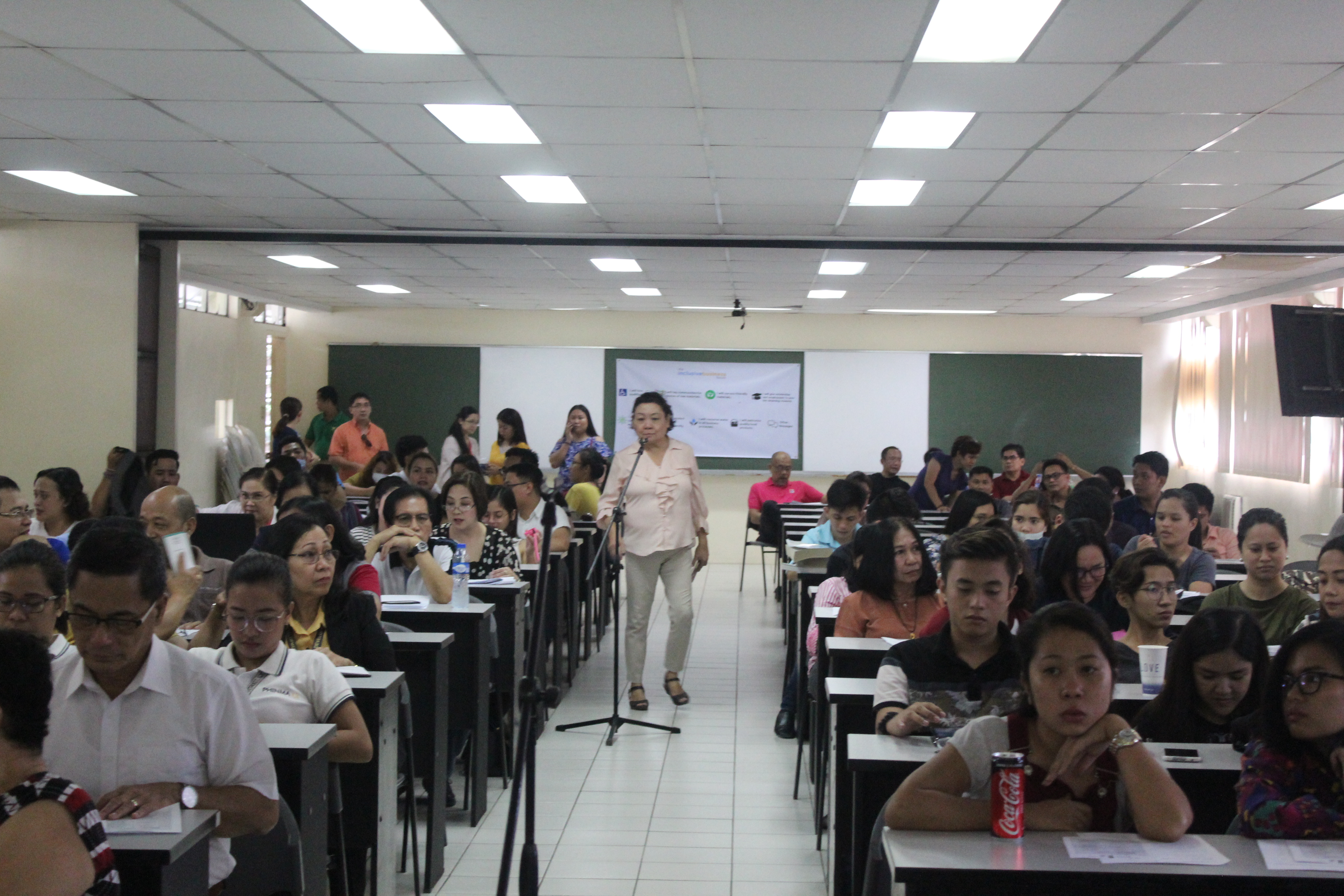 ILOILO CITY, ILOILO—To raise awareness on innovative and sustainable entrepreneurship, UP CIFAL Philippines conducted its 4th Inclusive Business (IB) Forum on October 1, 2018 at the University of the Philippines Visayas (UPV).
More than 200 students, government employees, business practitioners, and non-government workers participated in the IB forum, jointly organized by UP CIFAL Philippines, UPV, the Management Association of the Philippines (MAP), and the Philippine Chamber of Commerce and Industry (PCCI)-Iloilo.
Mary Scheree Herrera, founder of SCHERZ Indigenous Creations, shared how her social enterprise trained indigenous young people for disaster preparedness.
Iris Gulanes, executive director for skills development of Taytay sa Kauswagan, Inc. also showed how their microfinance services help the poor and provide additional capital for businesses.
PCCI-Iloilo President Atty. Jobert Peñaflorida illustrated how they synergize with various stakeholders (e.g. creating municipal chambers) to support micro, small and medium enterprises (MSMEs) and proposed to UPV College of Management the creation of Junior Chamber of Commerce.  
Despite these efforts and the government's programs, Ermelinda Pollentes, assistant regional director of the Department of Trade and Industry (DTI)-Region VI, lamented that only one company (Ephrathah Farms) in Iloilo is officially assisted by DTI in practicing inclusive business.
Ro-Ann Bacal, regional director of the National Economic and Development Authority (NEDA)-Region VI, added that government agencies hardly talk to each other and stressed that the development players (government, private sectors and academe) should work together to boost the practice of inclusive business.
Dr. Niceto Poblador, retired UP professor of economics and management, presented his paper, "Inclusive Business: Strategic Outcomes and Developmental Impact," which emphasizes the strategic rationale for inclusive business models (IBMs) to achieve sustainable profitability for the long term.
In reaction to Poblador's paper, Francis Gentoral, executive director of the Iloilo Economic Development Foundation, Inc., highlighted the challenge on delivering inclusive business in a collaborative manner, especially through a whole of government approach.
Prof. Voltaire Jacinto of the West Visayas State University added that the government should incentivize companies that are into inclusive business and suggested to change the way business is taught especially in the undergraduate level.
Other issues like retirement, collaboration of government agencies and private sector on teaching personal finance, and other government initiatives aside from being inclusive were also raised during the open discussion. The forum emphasized the need to rethink innovative and adaptive approaches to business and management education, areas in which the academe is expected to take the lead. The inclusive business model in business education strongly resounded in the forum.
The forum ended with the participants signing their pledge on the wall with messages on inclusive business practices.
Inclusive business is one of UP CIFAL Philippines' focal areas to promote and help achieve the United Nations' sustainable development goals (SDG), particularly SDG 1 (No Poverty), SDG 2 (Zero Hunger), SDG 8 (Decent Work and Economic Growth), SDG 9 (Industry, Innovation and Infrastructure), SDG 10 (Reduced Inequalities), SDG 12 (Responsible Consumption and Production, and SDG 17 (Partnership for the Goals).
The fifth and the last of the six fora on inclusive business in UP campuses will be held in early November in Clark, Pampanga and UP Baguio, respectively.