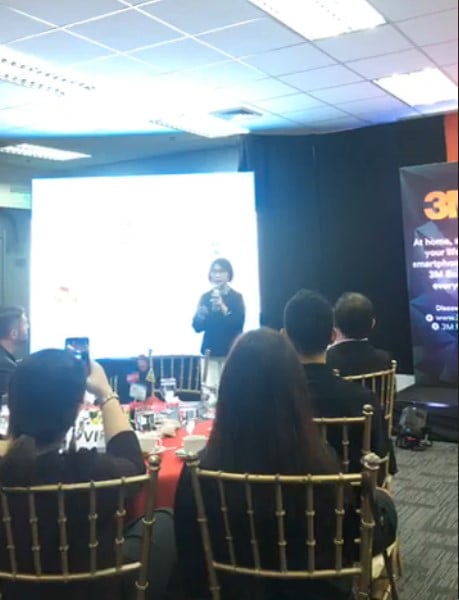 (PHOTO COURTESY: Screen grab from 3M Philippines' Facebook livestream)
UP CIFAL Philippines Director Dr. Edna E.A. Co discussed the key role of road safety in achieving sustainable development goals (SDG) at the "Drive For Road Safety" campaign launch of 3M Philippines on September 20 at the Bonifacio Global City in Taguig.
Road safety is one of the focal areas of UP CIFAL Philippines. Target 3.6 of SDG 3 (good health and well-being) aims to reduce road traffic deaths and injuries by 50% by 2020. Moreover, SDG 11 (sustainable cities and communities) also targets to provide access to safe, affordable, and sustainable transport systems for everyone by 2030.
Dr. Co also highlighted in her presentation the economic impacts of road crashes in the country. A World Bank study shows that the Philippines will gain 7% in gross domestic product per capita if road crashes and deaths are halved from 2014-2038.
Moreover, Dr. Co enumerated the five challenges in promoting road safety: 1) engineering, 2) education, 3) evaluation, 4) effective enforcement, and 5) emergency response. She recommended a whole of government approach and a whole of society approach to overcome these challenges.
The presentation was followed by a fireside chat towards safer roads, moderated by road safety advocate Vincent Lazatin. Speakers include 3M Philippines President and Managing Director Ariel Lacsamana, CNN Philippines TV host James Deakin and Vera Files reporter Lucille Sodipe.
According to the resource persons, poor road infrastructures, bad condition of vehicles, and negative attitude of road users are among the most noticeable road safety issues.
Lacsamana underscored the importance of proper education for road users on traffic laws and working with the government and the private sector.
Sodipe noted that the media should explain the reasons behind the figures on road crashes and deaths, and uncover stories on solutions by the government, the private sector and other stakeholders.
On the other hand, Deakin emphasized the need to modernize not just the road infrastructure but also the drivers as driving is one of the lowest paid jobs.
During the open forum, a participant stressed that enforcement is key in promoting road safety. Former Land Transportation Office Chief Bert Suansing added that the public should urge the government to act on preventing road crashes and deaths.