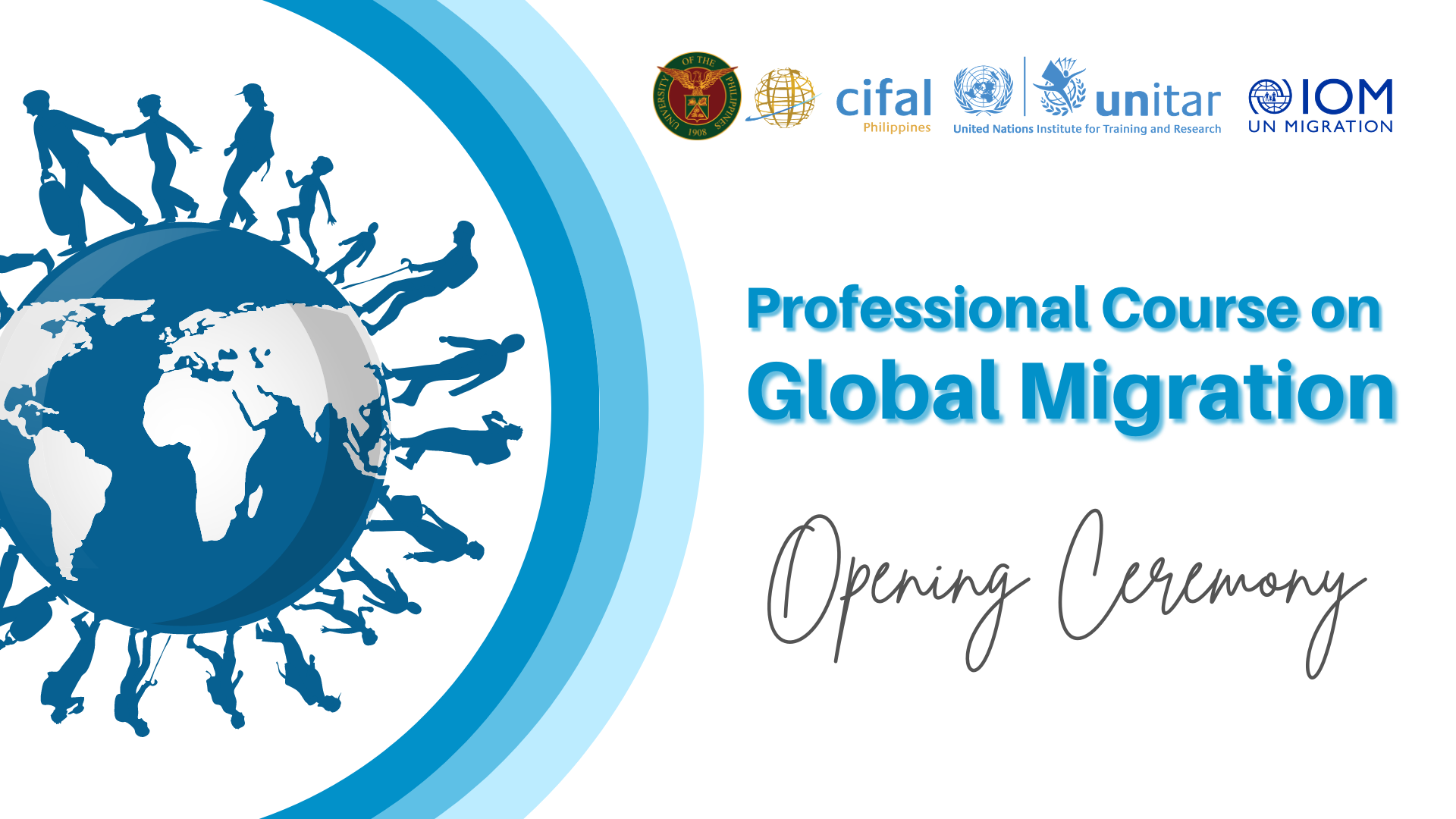 6 April 2021 – The University of the Philippines – Centre International de Formation des Authorités et Leaders Philippines (UP-CIFAL Philippines) opened the third Professional Course on Global Migration (PCGM), in partnership with the International Organization for Migration (IOM) Philippines.
PCGM welcomed 16 learners from different countries including Bangladesh, China, Ecuador, Egypt, Finland, Ghana Kenya, Libya, Tunisia, USA, Venezuela, and the Philippines.
Mr. Nikhil Seth, the Executive Director of the United Nations Institute for Training and Research (UNITAR) in Geneva, inaugurated the ceremony. Mr. Seth recognized that the course is an opportunity to gather migration advocates, practitioners, and scholars in further mainstreaming migration and the discourse surrounding its many facets.
University of the Philippines President Danilo Concepcion also joined in welcoming the first batch of online PCGM learners. Atty. Concepcion also delivered a message in which he recalled that PCGM is offered face-to-face among government officials prior to the pandemic and commended how far it has gone since. He assures that the course is developed with due diligence and excellence true to the University's identity.
Ms. Kristin Dadey, the Chief of Mission of the IOM in the Philippines, likewise emphasized the need for further research and education on migration governance. IOM Philippines also provided scholarship for selected learners.
Dr. Edna Estifania A. Co, Director of UP-CIFAL Philippines, provided the course presentation wherein she discussed the duration, learning modalities, and modules of PCGM.
UP Regent Angelo Jimenez who further laid down the challenges to migration practitioners towards a sound migration governance. Regent Jimenez has provided generous contributions to the course since its inception.
The opening ceremony was hosted by Dr. Jocelyn Celero, assistant professor from the Asian Center, University of the Philippines Diliman.
The course runs from 6 April 2021 to 27 May 2021 via remote learning. Another batch for the Fall Term is expected to be scheduled for August to September 2021.
WATCH THE MESSAGES FROM UNITAR AND THE UNIVERSITY OF THE PHILIPPINES HERE: