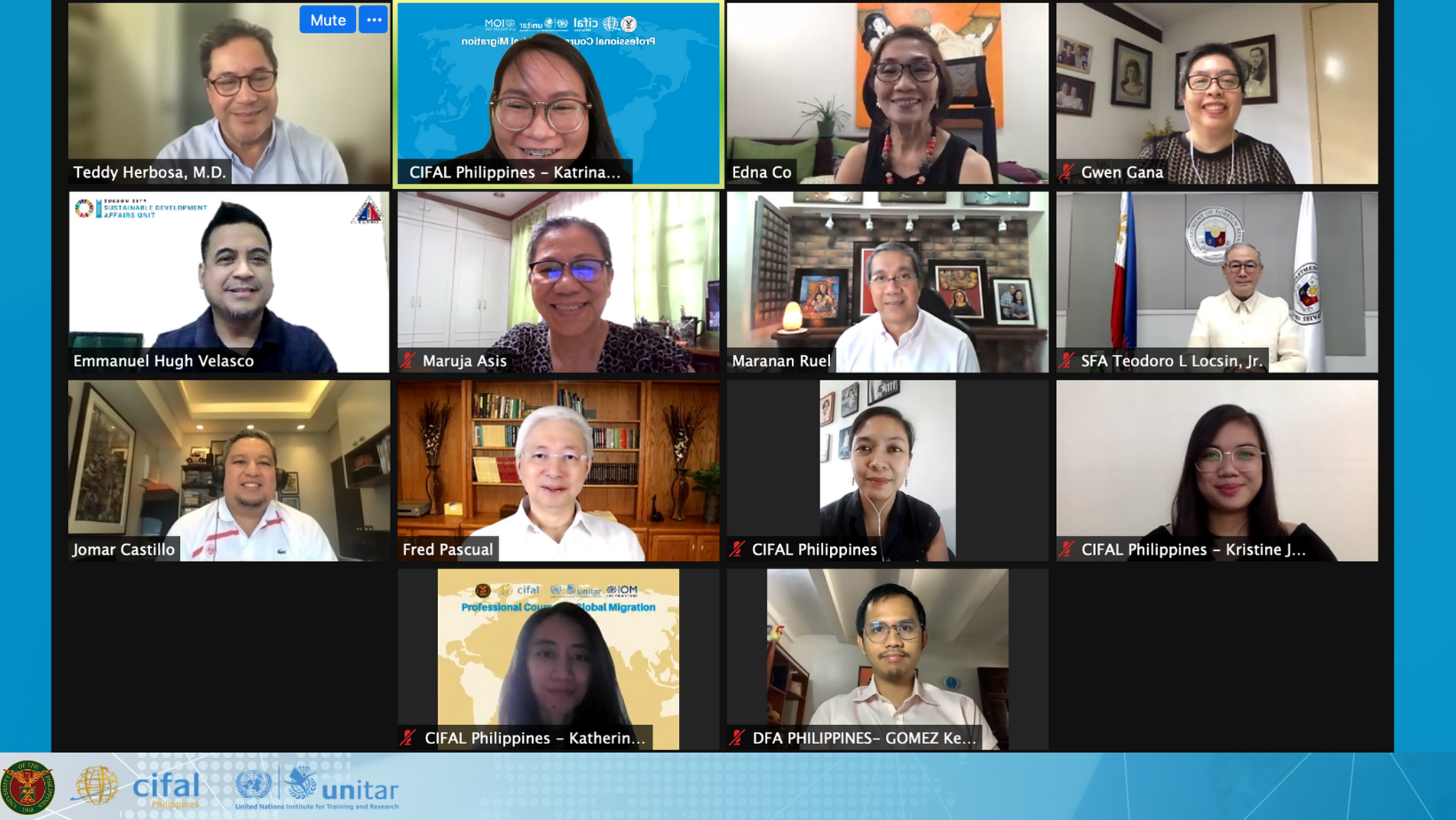 8 April 2021 – UP-CIFAL Philippines' Board of Representatives convened for the 5th annual meeting via Zoom meeting.
Present at the online board meeting were University of the Philippines (UP) System Executive Vice President Dr. Ted Herbosa (representing UP President Atty. Danilo Concepcion), Commissioner Gwen Pimentel-Gana of the Commission on Human Rights, Former UP President Alfredo Pascual, Scalabrini Migration Center Director Dr. Marla Asis, Ayala Foundation President Ruel Maranan, Emmanuel Velasco (representing Quezon City Mayor Joy Belmonte), and UP-CIFAL Philippines Director Dr. Edna Co, and staff.
UP-CIFAL Philippines also welcomed Department of Foreign Affairs Secretary Teodoro Locsin Jr. as the new member of the board of representatives. The center also introduced the successor representatives of the Philippine Business for Social Progress (PBSP) and the AirAsia Philippines, Mr. Reynaldo Antonio Laguda and Atty. Joseph Omar Castillo respectively.
The agenda include the review of the minutes of the 4th Annual Board Meeting, 2020 programs, and financial report, and proposed activities and budget for 2021.
The proposed programs in 2021 include the SDG capacity building for local government units and business industries, offering of UP-CIFAL Philippines' professional courses to government agencies and local government units, capacity building sessions for recruitment agencies, and the International Conference on Migration and Climate Action. UP-CIFAL Philippines has also ongoing researches on migration that are envisioned for publication and international release.
The Board recommended to translate the webinars and researches into policy notes that can be used by policymakers and leaders. They also discussed other ways forward for the center to further improve the capacity building and research activities.
In 2020, UP-CIFAL Philippines reached 7,675 beneficiaries – 64% of whom are female, while 36% are male. Eight-five percent (85%) of the activities were done online, while 15% were through face-to-face. UP-CIFAL Philippines' webinars had 4,581 total participants, with 2,955 females or 63%, and 1,626 males or 37%. The webinars had a total of 40 training hours, reaching 53 countries (Asia – 24; Americas – 7; Africa – 13; Europe – 8; Oceania – 1).