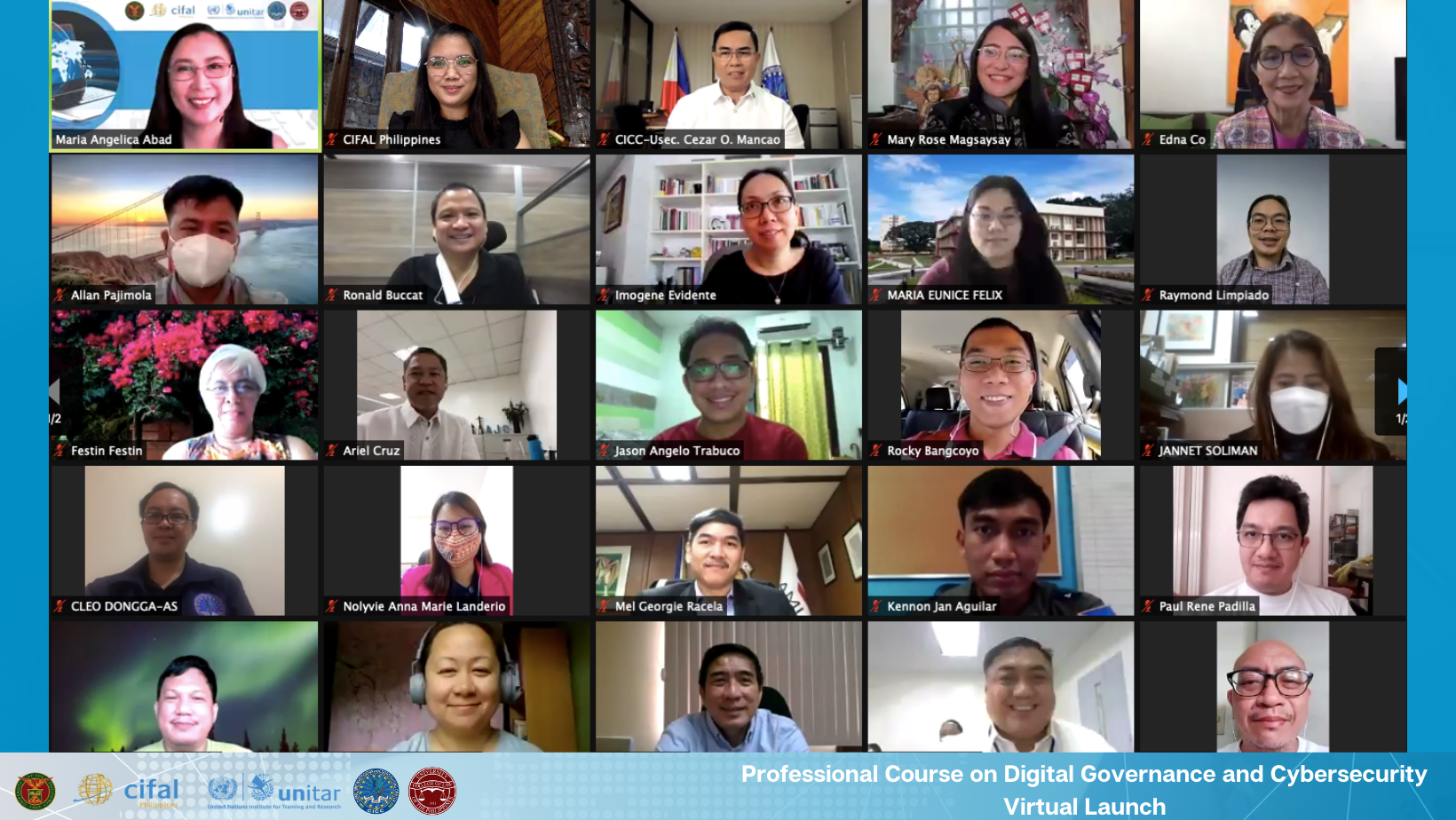 9 March 2021 – The University of the Philippines (UP) and the Cybercrime Investigation and Coordinating Center (CICC) launched the pilot run of the Professional Course on Digital Governance and Cybersecurity via Zoom.
Department of Information and Communications Technology (DICT) Secretary Gregorio Honasan delivered the key message, along with UP President Danilo Concepcion. Both highlighted the importance and timeliness of digital governance as a response to the changing times characterized by the dominance of technology.
Regent Angelo Jimenez, representing the UP Board of Regent opened the launch through his welcome message. Other speakers during the launch were Director of UP-CIFAL Philippines Dr. Edna Estifania A. Co, Director Mary Rose Magsaysay, and Executive Director Cezar Mancao II of the CICC, an attached agency of DICT.
The course will run from 10 March 2021 to 7 June 2021. Around 25 experts will serve as lecturers and resource persons of the course, and they represent international organizations such as the United Nations Office on Drugs and Crime (UNODC), Global Cyber Alliance, the Cyber4Dev, Digital Supply Chain Institute, the private sector, the government, and the academe. The pilot run of the course will be offered mainly to leaders and staff of the CICC, but this will eventually be cascaded to other government agencies including local government units.
For the first session, Alexandru Caciuloiu, the UNODC cybercrime and cryptocurrency advisor and regional coordinator for South East Asia and the Pacific, discussed the interrelationship of cybersecurity in attaining the Sustainable Development Goals (SDGs).
The first batch of learners are 30 government officials from CICC, DICT, Philippine National Police (PNP), Securities and Exchange Commission (SEC), Anti-Money Laundering Council (AMLC), Governance Commission for GOCCs (GCG), and the Department of Interior and Local Government (DILG).
Triggered by a Memorandum of Agreement signed on October 13, 2020, between the University of the Philippines and DICT's CICC, the course is led by the University of the Philippines which involves 3 units, namely UP -CIFAL Philippines, UP Diliman Extension Program in Pampanga and Olongapo, and the UP College of Law.