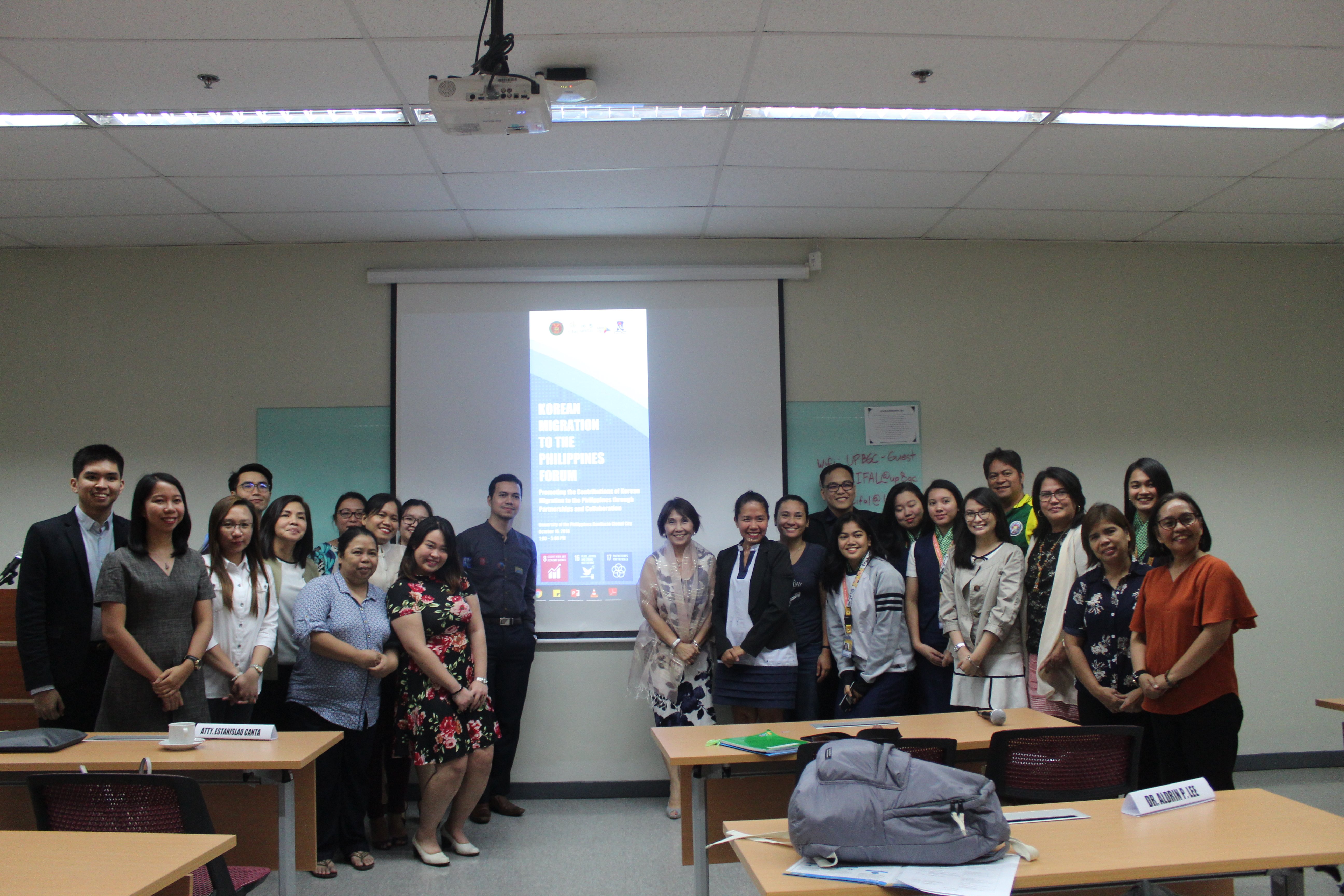 To promote the contributions of Korean migration to the Philippines through partnerships and collaboration, UP CIFAL Philippines held a forum at the University of the Philippines (UP) Bonifacio Global City in Taguig on October 16, 2018.
Around 40 participants from the academe, the government, and the private sector attended the forum co-organized by UP Korea Research Center (UP KRC) and UP Asian Center.
UP CIFAL Philippines Director Dr. Edna Co delivered the opening remarks and launched the video about the modern history of Philippine migration produced by former UP CIFAL Philippines intern Megan Simms from CIFAL Atlanta.
UP CIFAL Philippines researcher Apple Ariola presented the highlights of the data snapshot of the Korean migration to the Philippines. The pilot study initiated by UP CIFAL Philippines revealed the declining number of Korean students due to security reasons and the sentiments of Korean investors on the high costs of doing business in the country.
Korea Chamber of Commerce Philippines President Hoik Lee echoed this concern, stressing that Korean businessmen opt to invest in other countries partly due to safety and security concerns in the Philippines.
However, according to Atty. Estanislao Canta, chair of Bureau of Immigration's Board of Special Inquiry, the occurrences of such security snags may be attributed to internal conflicts among Koreans themselves. Still, he acknowledged that tragedies occur in the Philippines, thus, making the host country also accountable to mete out justice.
Lee Tae Eun, Third Secretary of the South Korean Embassy, also cited safety concerns, legal constraints to foreign investment, and challenges in immigration processes as obstacles to the migration of Koreans. She added that the Philippines recorded the highest number of reported crimes in Southeast Asia involving Korean victims from 2014-2017.  
Overall, there are suggestions for the Philippines to review its laws, ease travel restrictions, maintain peace and order, and improve its transportation and communications infrastructures.
Atty. Al Paglinawan of the Philippine National Police provided updates on the criminal cases involving Koreans and presented how the police partner with the Korean Embassy and other Philippine government agencies to address security issues.
UP KRC Director Dr. Aldrin Lee discussed the role of the academe and enumerated the challenges they face, such as funding, collaborators, and the agenda of the higher education institutions.
During the open forum, UP Population Institute Prof. Nimfa Ogena shared that the National Migration Survey is underway, one of the main objectives of which is to standardize and operationalize the definition of migration. She added that this will provide a common understanding in preparing and analyzing reports, including the migration of Koreans.