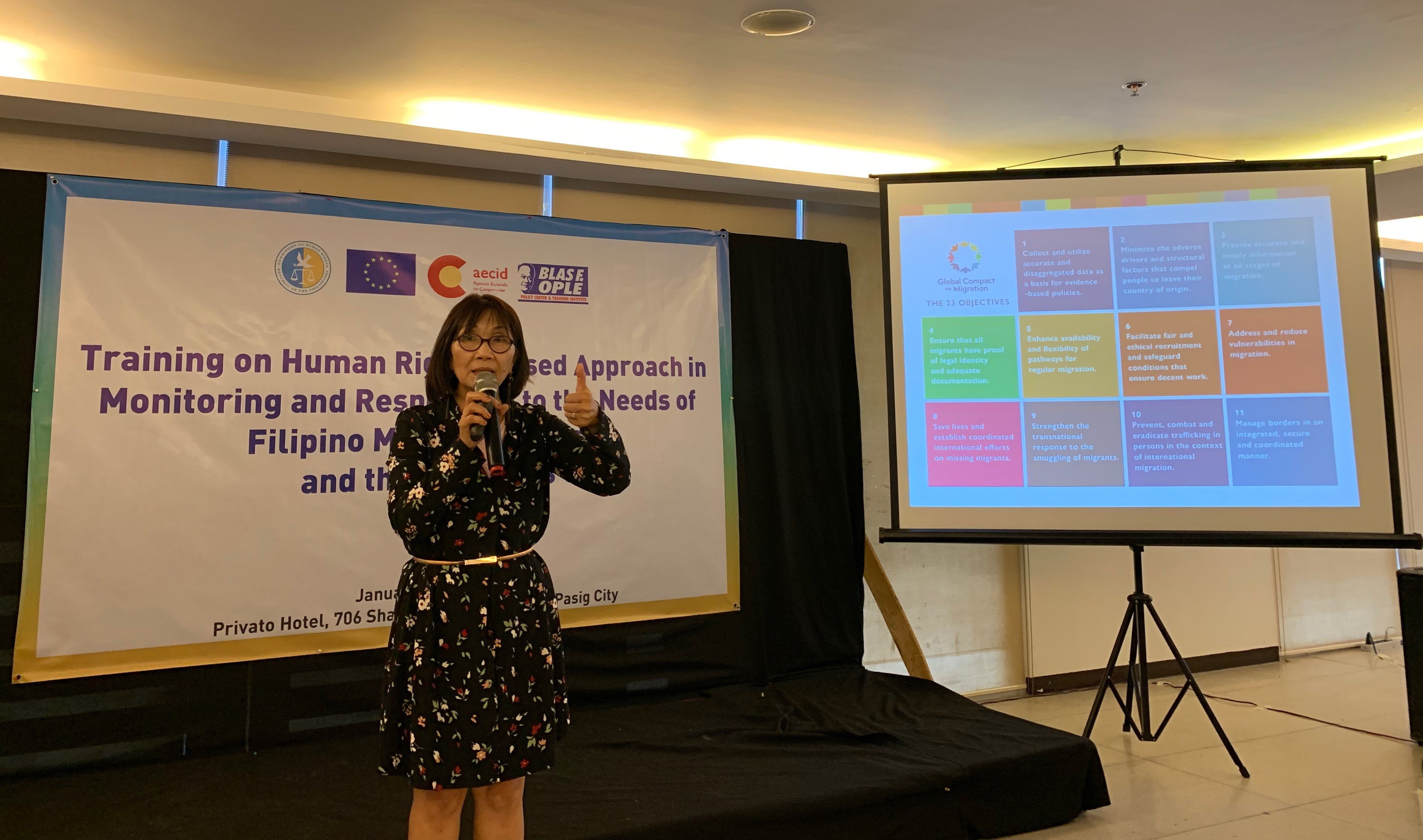 14 January 2020, PASIG CITY, PHILIPPINES — UP-CIFAL Philippines Director Dr. Edna Co discussed the "International Human Rights Mechanism on Migrant Workers Treaty Bodies and Charter-based Bodies of the United Nations (UN)" in the "Training on Human Rights based Approach in Monitoring and Responding to the Needs of Filipino Migrant Workers and their Families."
The two-day training was jointly organised by the European Commission, Spanish Agency for International Development Cooperation, the Philippine Commission on Human Rights (CHR), and the Blas Ople Policy Center and Training Institute.
Twenty participants from various offices of CHR specializing in monitoring and investigation attended the first day of the two-day workshop held at the Privato Hotel in Pasig City.
Dr. Co stressed that human rights is in the spirit of the UN which calls for the harmonisation of international treaties and national laws on human rights. Particularly, the human rights of migrant workers and their families need to be protected as they are among the vulnerable groups around the world.
She highlighted how the Philippines can share good migration governance practices to the world and mind the challenges it faces in migration. In this regard, proper evidence and documentation is core to the function of monitoring and responding to the needs of migrant workers and their families.
Dr. Co also linked the Global Compact for Migration (GCM) and its objectives on recruitment, trafficking, and discrimination to monitoring of human rights of migrants. To contribute to the attainment of the GCM objectives, she encouraged the participants that their work in monitoring the human rights of migrants supplement existing protection mechanisms.