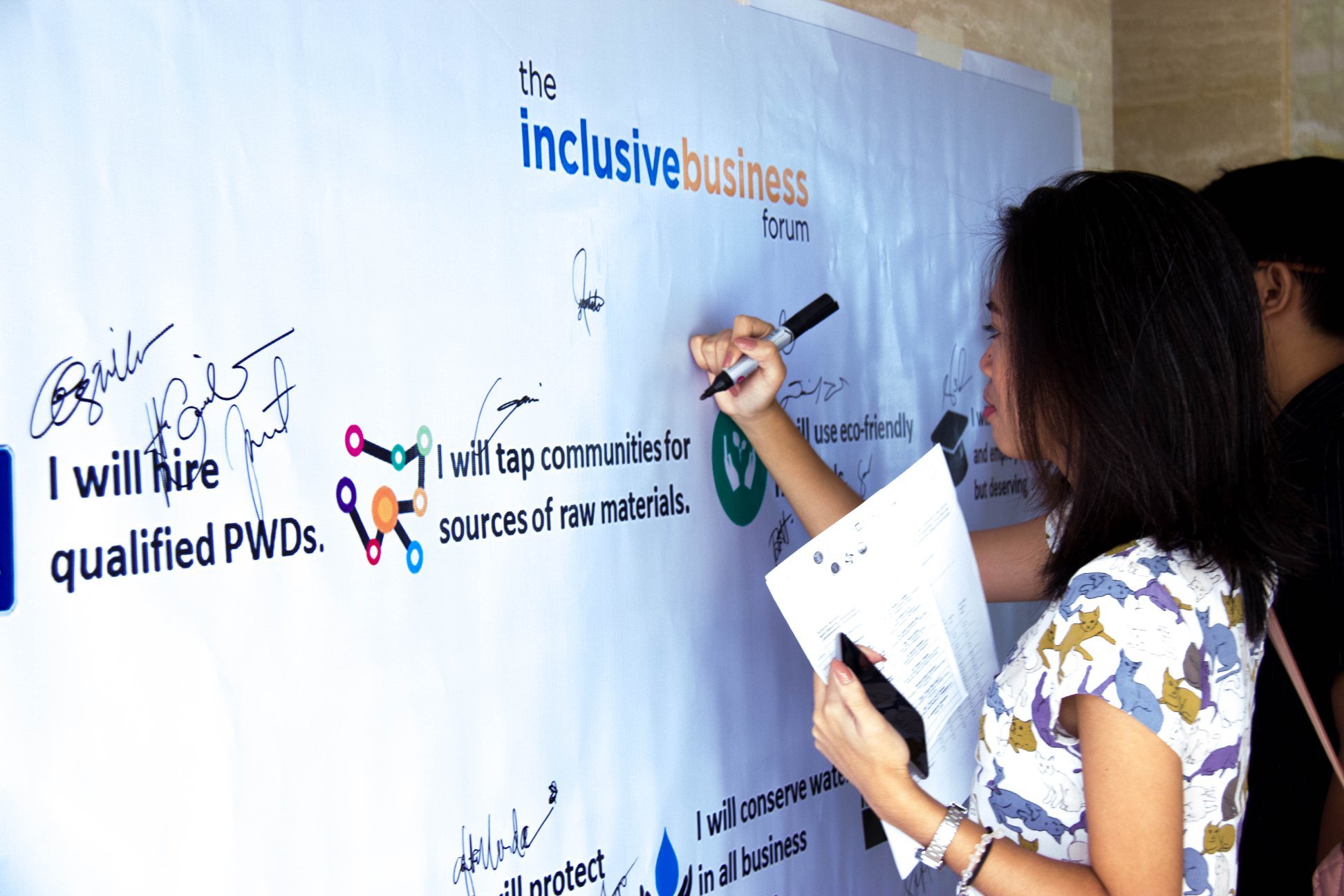 (Photo Courtesy: UPLB College of Economics and Management)
LOS BAÑOS, LAGUNA—To promote agro-industrial development and environmental sustainability among local businesses, UP CIFAL Philippines conducted the third of its series of fora on inclusive business (IB) on August 30, 2018 at the University of the Philippines Los Baños (UPLB).
The broader objective of the forum is to locate the role of business in the promotion of sustainable development goals as a universal call to action and to localize these goals in the Philippine economy and growth, thereby "leaving no one behind."
More than 200 students, government employees, and business practitioners participated in the IB forum, jointly organized by the UP CIFAL Philippines, UPLB and the Management Association of the Philippines (MAP).
CARD MRI Founder Dr. Jaime Alip presented how his company contributes to Sustainable Development Goal (SDG) 1: no poverty through microfinance programs, SDG 3: good health and well-being through health programs, SDG 4: quality education through scholarships and trainings, SDG 5: gender equality by employing more women, and SDG 12: responsible consumption and production through agricultural projects.
Engr. Crispin Muyrong, Sunlight Foods Corp. operations manager, also illustrated how his firm implemented productivity programs to increase output while reducing environmental impacts and how it responds to the challenges of the SDGs using some indicators.
Meanwhile, Honda Cars Philippines' Patch Quilao shared how the firm partnered with various stakeholders to promote safe driving, fuel efficiency, as well as green purchasing and green dealer programs to help reduce environmental impacts.
Dr. Niceto Poblador, retired UP professor of economics and management, presented his paper, "Inclusive Business: Strategic Outcomes and Developmental Impact," which emphasizes the strategic rational for inclusive business models (IBMs) to achieve sustainable profitability for the long term.
Dr. Cielito Habito, a UPLB alumnus, economics professor at the Ateneo de Manila University and former National Economic and Development Authority Director General, reinforced the points in Dr. Poblador's paper. Habito highlighted that micro, small, and medium enterprises (MSMEs) should contribute more to the overall economic growth and that inclusive business must be properly operationalized. Habito further emphasized that big business should not see MSMEs as threats but as possible partners.
Richard Osmond, president of Laguna Chamber of Commerce and Industry, provided examples of their inclusive business activities such as a contract farming agreement with local farmers in Oriental Mindoro. Through this arrangement, farmers improved their productivity and were able to sell their harvest at fixed, market competitive rates.
During the open forum, some participants asked about the distinction between inclusive business and corporate social responsibility (CSR), as well as how to strengthen partnerships with farmers as part of the value chain. The resource persons explained that inclusive business and CSR are interrelated and complement each other. Speakers from the industry also pointed out the need for more formal contracts with farmers as well as trainings on monitoring production costs.
The forum ended with the participants signing their pledge on the wall with messages on inclusive business practices.
Inclusive business is one of UP CIFAL Philippines' focal areas to promote and help achieve the United Nations' sustainable development goals (SDG), particularly SDG 1 (No Poverty), SDG 2 (Zero Hunger), SDG 8 (Decent Work and Economic Growth), SDG 9 (Industry, Innovation and Infrastructure), SDG 10 (Reduced Inequalities), SDG 12 (Responsible Consumption and Production, and SDG 17 (Partnership for the Goals).
The fourth of the six fora on inclusive business in UP campuses will be held in late September in UP Iloilo. Other Inclusive Business forums lined by UP CIFAL Philippines will be held in UP Baguio and UP campus in Clark by year-end.