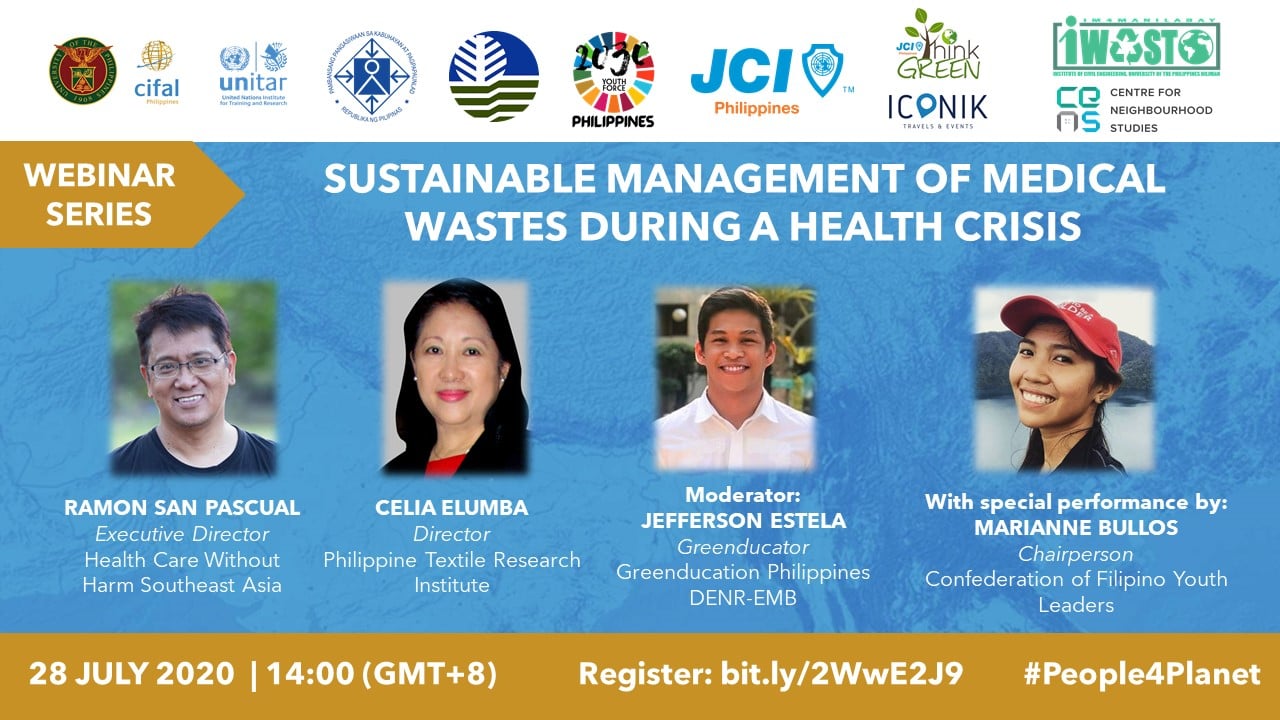 28 July 2020-In line with the promotion of Sustainable Development Goal (SDG) 12: Responsible Consumption and Production, UP-CIFAL Philippines held a webinar on "Sustainable Management of Medical Wastes During A Health Crisis."
Resource persons from the government and nongovernment organisation discussed the challenges and solutions in managing the surge in medical wastes amid the COVID-19 pandemic.
Ramon San Pascual, executive director of Health Care Without Harm Southeast Asia, shared best practices of healthcare facilities in Taiwan and Indonesia on reducing the use of disposable personal protective equipment (PPE) by redesigning hospital screening area and shifting to washable PPE.
Celia Elumba, director of Philippine Textile Research Institute, talked about how innovation and technology can help reduce the risk of respiratory infection while saving the environment such as through the REwear™ face mask, a smart protective barrier which can be washed and reused for 50 times.
Jefferson Estela, "greenducator" of the Department of Environment and Natural Resources' (DENR) Greenducation Philippines, moderated this webinar that garnered 413 attendees from the Philippines, United States, India, and other countries.
Marianne Bulos, chairperson of Confederation of Filipino Youth Leaders, performed songs about the environment, "Heal the World," "We Are the World" and "Colours of the Wind," in line with the other SDGs such as SDG 13: Climate Action, SDG 14: Life Below Water, and SDG 15: Life on Land.
The National Economic and Development Authority, DENR, 2030 Youth Force Philippines, JCI Philippines, Iconik Travels and Events, Centre for Neighbourhood Studies, and IM4ManilaBay Program are partners of this webinar.
UP-CIFAL Philippines' next webinar will tackle inclusive education for Filipino migrant children on 31 July 2020, 14:00 (GMT+8). UP-Asian Center, Commission on Filipinos Overseas, Department of Education, Diaspora 4 Education, and United Nations Children's Fund are partners of this online event. Register here.