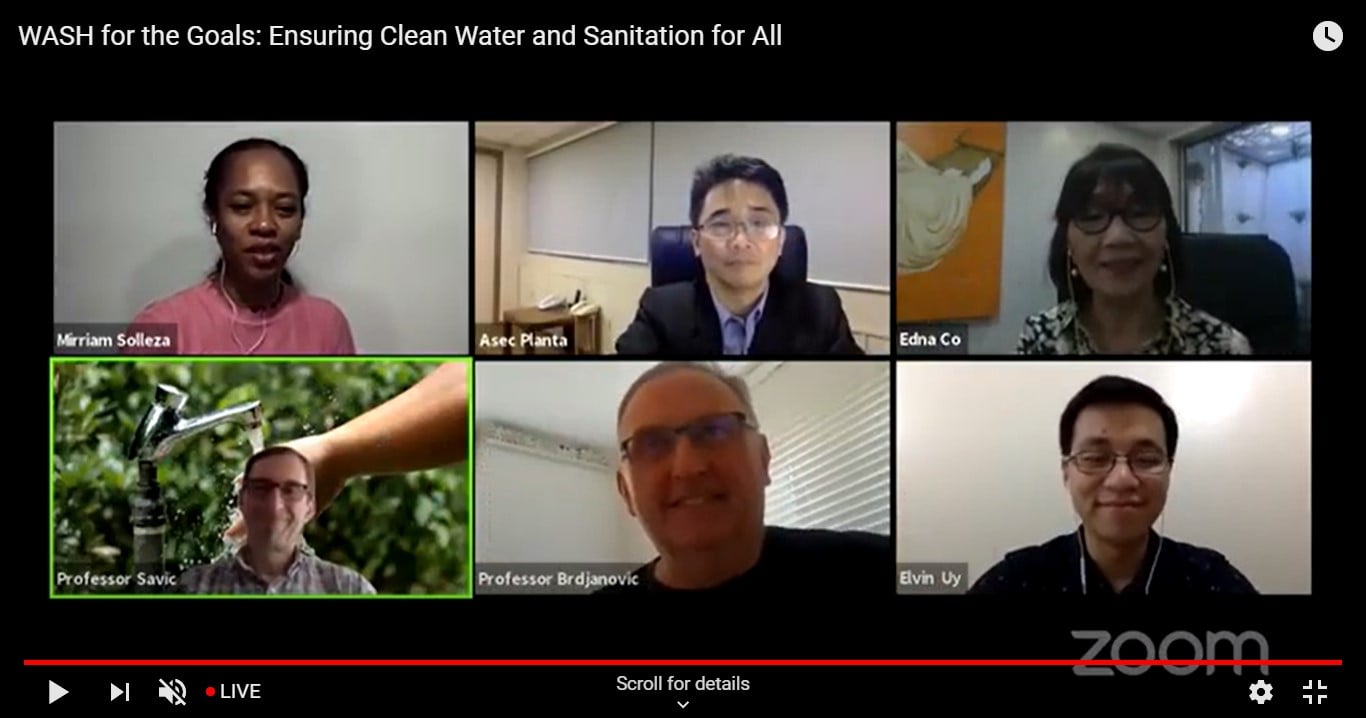 22 July 2020−In line with the promotion of Sustainable Development Goal (SDG) 6: Clean Water and Sanitation, the University of the Philippines (UP)-CIFAL Philippines conducted the webinar, "WASH for the Goals: Ensuring Clean Water and Sanitation for All."
This webinar discussed the importance of water, sanitation, and hygiene (WASH) to prevent the spread of COVID-19. Resource persons from the government, nongovernment organisations, and academe talked about possible strategies to address the short-term and long-term issues on WASH in this time of pandemic.
Mirriam Solleza, WASH advisor of Oxfam Pilipinas, emphasised the importance of community participation and institutionalised partnerships to implement and employ innovative solutions in WASH programmes during this health crisis.
Elvin Ivan Uy, deputy executive director of Water Alliance, discussed the critical role of businesses in contributing to the Philippine government's agenda in water and the achievement of SDG 6 through water footprint reduction, among others.
Roderick Planta, assistant secretary of the National Economic and Development Authority (NEDA), highlighted the fragmented water management in the Philippines and the need for institutional water reforms.
Prof. Damir Brdjanovic from IHE Delft and Prof. Dragan Savic from KWR Water Research Institute shared science-based studies and experiments in dealing with wastewater in developing countries.
UP-CIFAL Philippines Director Dr. Edna Co moderated this online discussion which drew in 424 attendees.
SDG 6.5 aims to "implement integrated water resources management at all levels, including through transboundary cooperation as appropriate" by 2030.
UP-CIFAL Philippines partnered with Oxfam Pilipinas, KWR Water Research Institute, IHE Delft, Philippine Business for Social Progress-Water Alliance, Manila Water Foundation, and Ramon Aboitiz Foundation Inc. for this webinar.
Watch the full webinar here.
UP-CIFAL Philippines' next webinar will tackle medical waste management on 28 July 2020, 14:00 (GMT+8). This is in partnership with NEDA, Department of Environment and Natural Resources, 2030 Youth Force Philippines, JCI Philippines, Iconik Travels and Events, Centre for Neighbourhood Studies, and IM4ManilaBay Program. Register here.