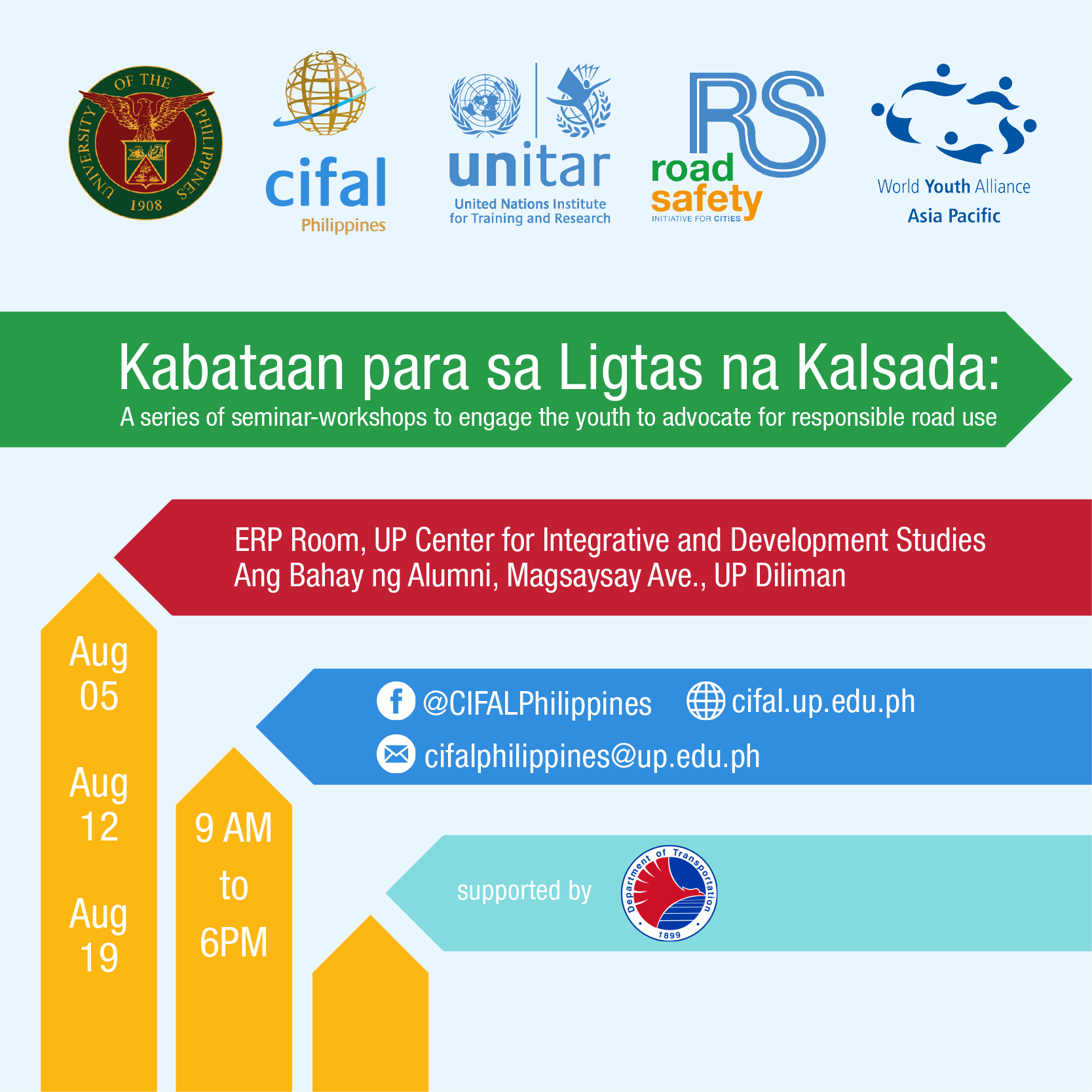 According to the World Health Organization (WHO), road traffic injuries is the leading cause of death among the youth. It is estimated that more than 300,000 people age 15-29 years die due to preventable road crashes. In the Philippines, more than 1,500 road traffic deaths were recorded in 2013. However, the WHO estimates that more than 10,300 die due to road crashes with thousands more injured or disabled.
To address the global issue of road traffic injuries and mortality, the United Nations Sustainable Development Goals (SDGs) includes the reduction of road traffic deaths and injuries by half by 2020 (SDG 3.6). In line with this, the United Nations Institute for Training and Research (UNITAR) has launched its Road Safety Initiative for Cities which aims to 1) improve road user behaviour though advocacy efforts and by increasing awareness of risk factors, and 2) enhance the capacity of government agencies and municipal authorities to develop and implement road safety strategies and plans in line with SDG 3.6.
Supporting UNITAR's Road Safety Initiative for Cities, the Kabataan para sa Ligtas na Kalsada seminar-workshop series seeks to engage youth organizations in the Philippines to advocate for responsible road use. The seminar-workshops will tackle the SDGs, the Philippine road safety situation, and youth action.
The seminar-workshops will be conducted on 5, 12 and 19 August 2017 (Saturdays) in the University of the Philippines Diliman. It will be facilitated by CIFAL Philippines and World Youth Alliance Asia Pacific.
Limited slots are available. Interested youth organizations are required to register here.
Registration deadlines:
– 02 August 2017 for the 05 August workshop
– 09 August 2017 for the 12 August workshop
– 16 August 2017 for the 19 August workshop
For more information, please send an email to [email protected].