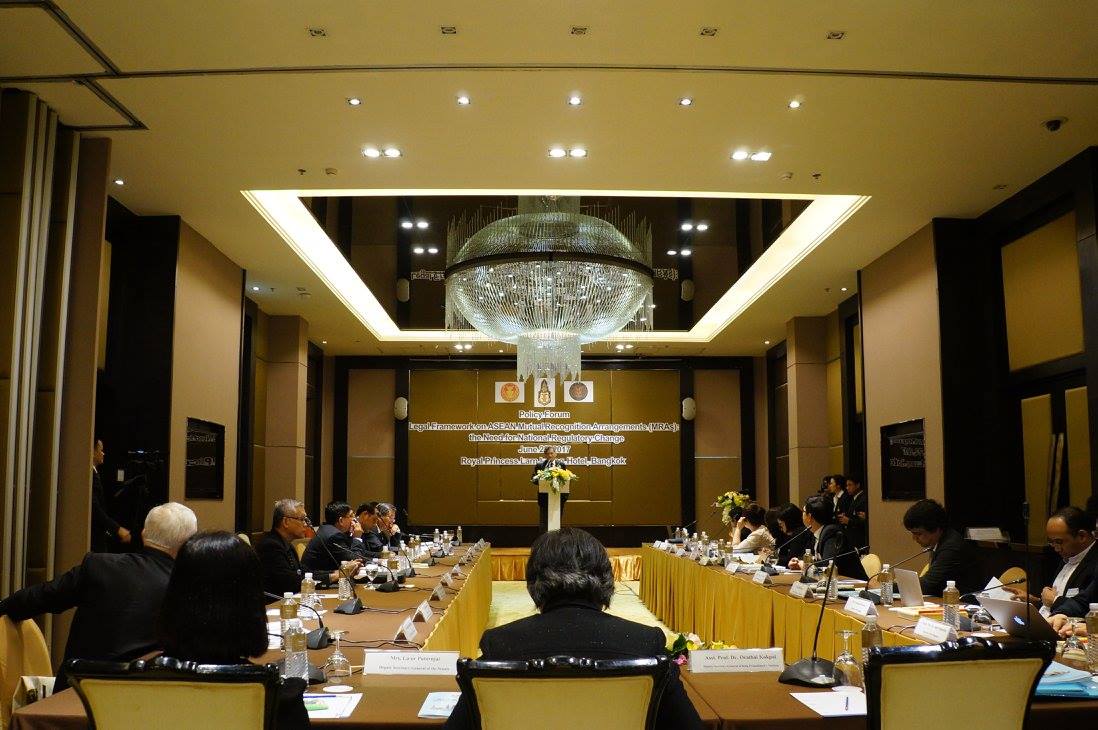 BANGKOK – Fellows of the University of the Philippines Center for Integrative and Development Studies (UP CIDS) – CIFAL Philippines presented their research on labor migration within Southeast Asia during a policy forum co-organized by the university, the King Prajadhipok's Institute (KPI), and the secretariats of the House of Representatives and Senate of Thailand on Thursday, 22 June 2017.
The forum titled "Legal Framework on ASEAN Mutual Recognition Arrangements (MRAs): The Need for National Regulatory Change" convened scholars, Thai national government officials, private sector representatives and parliamentary staff from Association of Southeast Asian Nations (ASEAN) member states to discuss the challenges of facilitating the free mobility of skilled workers within the region.
Dr. Rene Ofreneo, professorial lecturer at the UP School of Labor and Industrial Relations and CIDS-CIFAL Philippines fellow proposed that the ASEAN pursue the "freer flow" of skilled labor as a compromise to total free mobility, which he believes is an impossible goal.
UP Asian Center Dean Dr. Joefe Santarita, meanwhile, identified the challenges faced by member states in implementing MRAs on skilled labor, which fall under three broad categories: historical-legal, bureaucratic, and educational-cultural.
He recommended that the ASEAN Secretariat serve as the "clearing house" and coordinator of intra-regional worker applications in order to better facilitate the mobility of professionals, but also stressed the need for each member state to amend its labor laws and constitutional provisions.
Lastly, Institute for Migration and Development Issues Executive Director and CIDS-CIFAL Philippines researcher, Jeremaiah Opiniano shared case studies of labor mobility within ASEAN, focusing particularly on the experience of the Philippines.
His joint research with UP Political Science professor Dr. Jean Franco found that the impact of MRAs on the Philippines is limited since the ASEAN region, with the exception of Singapore and Malaysia, has yet to become an attractive destination for Filipino professionals.
Following the three presentations from UP, Thai researcher Tir Srinopnikom from the Australian National University shared data on the intra-ASEAN migration of Thai doctors and engineers.
The forum concluded with a dialogue among Thai stakeholders, wherein it was agreed that while there is a need to coordinate the legal and labor structures of ASEAN member states for the MRAs to succeed, it is equally imperative to boost awareness and support for ASEAN among the citizenry.
As former ASEAN Secretary-General Dr. Surin Pitsuwan said in his keynote address at the forum, "Involve the people. Engage the people so a larger number of people can participate in the ASEAN enterprise."
The presenters' research papers will be released in a forthcoming publication by 4th quarter 2017.