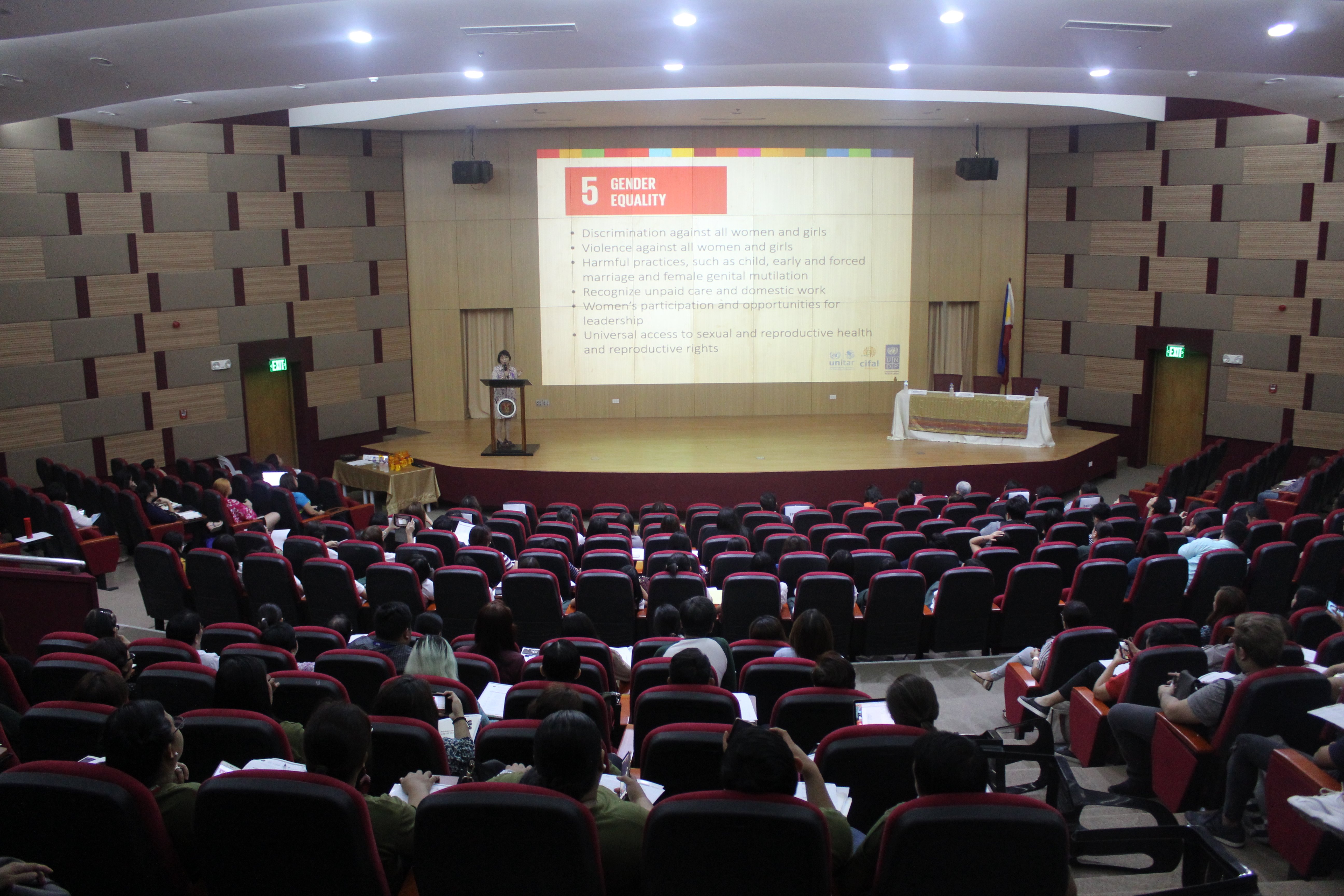 13 March 2019, Quezon City, PhilippinesꟷIn celebration of the International Women's Month, UP-CIFAL Philippines held a public forum on gender-responsive migration data management.
At least 220 participants from the academe, government agencies, non-government and international organizations, and migrant groups attended the forum, which was jointly organized with the International Organization for Migration (IOM) Philippines, the United Nations (UN) Women Philippines, the University of the Philippines (UP) Center for Women's and Gender Studies, and Miriam College-Women and Gender Institute (WAGI).
Resource persons from the government, the academe and various organizations for migrants discussed the challenges and strategic directions in adopting a gender-responsive approach to Philippine migration data management.
The Philippine Statistics Authority and the UP Population Institute emphasized the lack of national disaggregated data on migration for strategy planning and policy making to protect the rights of migrants.
The National Migration Survey, the first nationwide survey on migration in the Philippines, aims to provide data on the international and inter-regional migration flows by age, sex, and geographical disaggregation. The results are expected to be released in May 2019.
According to UN Women, half of the migrant workers in the Southeast Asian region are women, who are more vulnerable to violence and trafficking. UN Women's "Safe and Fair Project" helps address these vulnerabilities by improving women migrant workers' access to essential services and strengthening gender-responsive approaches to migration governance.
OutRight Action International, an international human rights organization, lamented the lack of proper documentation on the cases of abuses against lesbians, gays, bisexuals, transgenders, intersexes, and queers (LGBTIQ) as well as programs and policies for them. One of the recommendations is to include LGBTIQ migrant issues in bilateral agreements and laws on labor migration and anti-discrimination.
Batis AWARE (Association of Women in Action for Rights and Empowerment), a self-help people's organization, shared how they empower former women migrant workers who have experienced violence and exploitation through artworks and writing.
The public forum highlighted that both qualitative and quantitative methods should complement each other for a gender-responsive migration data management.