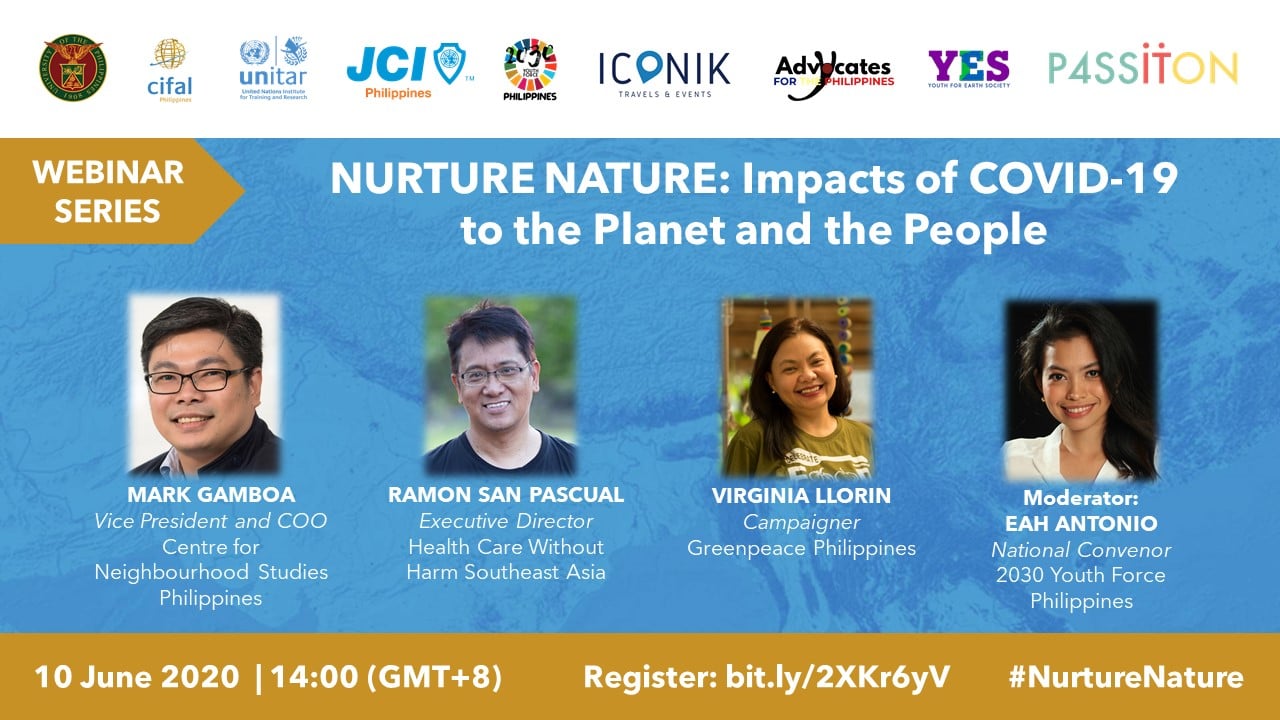 10 June 2020–The impacts of COVID-19 to the planet and the people took the spotlight in the fifth of a webinar series led by UP-CIFAL Philippines.
Resource persons from nongovernment organisations and academia served as speakers in the webinar, "Nurture Nature: Impacts of COVID-19 to the Planet and the People."
Dr. Edna Co, director of UP-CIFAL Philippines, discussed some of the sustainable development goals (SDGs) related to COVID-19 and the environment such as SDG 3: good health and well-being, SDG 12: responsible consumption and production, SDG 14 : life below water, and SDG 15 : life on land.
Virginia Benosa-Llorin, Greenpeace Philippines campaigner, talked about the negative effects of industrial meat production and mindful household consumption practices during a pandemic.
Ramon San Pascual, executive director of Health Care Without Harm Southeast Asia, suggested waste management practices in health care facilities without polluting the environment.
Atty. Mark Gamboa, vice president and COO of the Centre for Neighbourhood Studies Philippines, emphasised the need for collaboration in creating a smarter and sustainable neighbourhood system.
Eah Antonio, national convenor of the 2030 Youth Force in the Philippines, served as the moderator of this webinar.
Junior Chamber International Philippines, 2030 Youth Force in the Philippines, Iconik Travels and Events, Youth Advocates for the Philippines, Youth for Earth Society, and P4ssITon co-organised this webinar where 154 people worldwide participated.
Watch the full webinar here.
An upcoming discussion in the webinar series will be on "The Young in the Face of COVID-19: Impacts on Children and Youth's Well-being and Safety" on 16 June 2020, 15:00 (GMT+8). Register here.