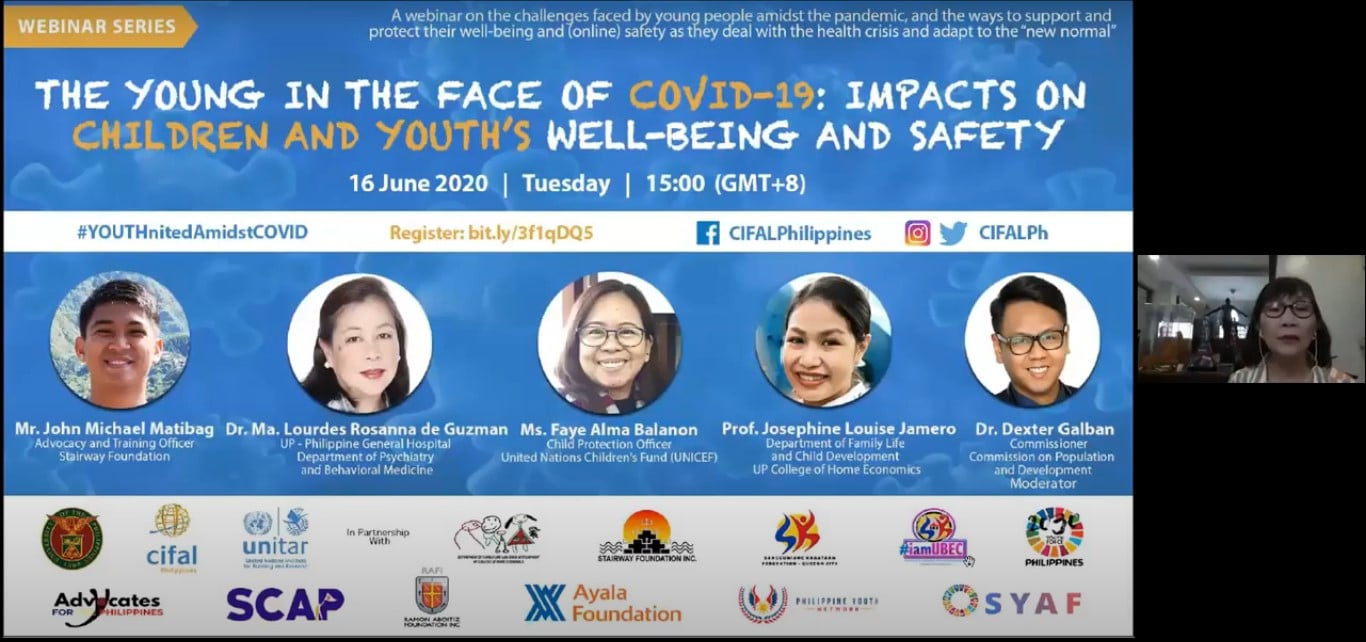 16 June 2020−What are the effects of COVID-19 to young people and how can they cope with these challenges? These were the main questions in the webinar, "The Young in the Face of COVID-19: Impacts on Children and Youth's Well-being and Safety," led by UP-CIFAL Philippines.
Experts from the academe as well as international and nongovernment organisations presented ways on how children and the youth can adapt to the new normal.
Dr. Edna Co, director of UP-CIFAL Philippines, opened the online discussion and stressed the important role of family and home in supporting young people to cope with the pandemic.
Faye Balanon, child protection officer of the United Nations Children's Fund, cited reports of increase in cases of violence against children during the lockdown.
John Michael Matibag, advocacy and training officer of Stairway Foundation, discussed the risks children face on the Internet such as cyberviolence and online pornography and advised them to avoid posting private information to stay safe in the cyberspace.
Dr. Ma. Lourdes Rosanna de Guzman of UP Manila College of Medicine and Philippine General Hospital suggested strategies for coping with the stresses due to long periods of quarantine through social support, healthy habits, and reliable information.
Asst. Prof. Josephine Louise Jamero of the Department of Family Life and Child Development of UP College of Home Economics highlighted that intimate family interactions and creative activities even in small spaces using available materials at home can help young people's development.
Dr. Dexter Galban, commissioner of the Commission on Population and Development, moderated the webinar attended 451 participants from all over the world.
UP CIFAL Philippines partnered with the following organizers to co-host the webinar:
2030 Youth Force in the Philippines
Ayala Foundation
Online SDG Youth Action Forum
Philippine Youth Network
Ramon Aboitiz Foundation Inc.
Sangguniang Kabataan Federation of Quezon City
Sangguniang Kabataan Federation of Cebu City
Stairway Foundation
Student Council Alliance of the Philippines
UP Family Life and Child Development
Youth Advocates for the Philippines
Watch the full webinar here.
UP-CIFAL Philippines' next webinar, "No Crowding, Please: COVID-19 and Physical Distancing," on 3 July 2020, Friday, 3:00 PM (Manila time) will discuss the local governance, technological and human rights aspects of physical distancing in this time of pandemic. Register here.