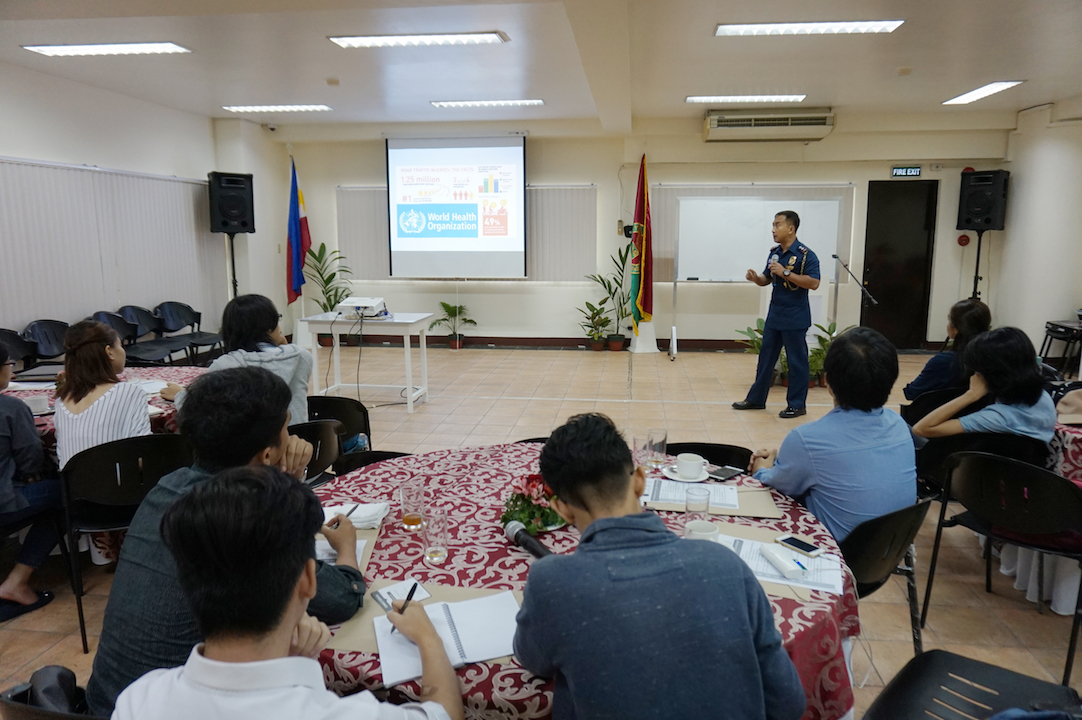 QUEZON CITY – In its mission of offering training opportunities to build capacities of leaders, CIFAL Philippines hosted Kabataan para sa Ligtas na Kalsada (Youth for Safer Roads), a seminar-workshop on responsible road use and road safety, supported by the Department of Transportaion (DOTR).
Held on Saturday, 19 August 2017, the seminar-workshop gathered representatives from Batis Youth Organization that Gives Hopes and Inspiration (Batis-YOGHI), UP ROAD TRIP, Millennials PH, The THIRD Party of University of Rizal System-Binangonan, and 2030 Youth Force in the Philippines Inc. to discuss the younger generations' engagement in keeping roads safe for various stakeholders in the country.
For the seminar part of the program, participants received lectures on issues on road safety and youth engagement.
Mary Imbong, Regional Director of World Youth Alliance Asia-Pacific, talked about the Sustainable Development Goals (SDGs) and what the youth can do to attain such. "Sustainable development entails finding person-centered solutions," said Imbong.
P/Supt. Oliver Tanseco of the Philippine National Police-Highway Patrol Group gave an overview of road safety data in the country as well as recent efforts in legislating responsible road use.
New Vois Association of the Philippines, through Einstein Roxas, discussed their advocacy "Seats that Save Lives" which promotes the use of restraints and child car seats to reduce the number of road-related fatalities among children.
Eric Lazarte of Philippine Advocates for Road Safety called upon the youth to hold awareness-building initiatives and other opportunities to influence policymakers, as there is currently no comprehensive road safety education for youth and children.
The workshop portion focused on effective project planning, implementation, and evaluation. Imbong shared methods for designing advocacy projects, and participants were given a brief exercise that put their newfound knowledge on project planning to the test.
The workshop culminated in pitch presentations; participants were given an hour to come up with road safety advocacy projects that they may implement in their networks, and then presented these in lively minute-long elevator pitches. The youth leaders' pitches centered on current issues such as the Anti-Distracted Driving Act and building awareness for pedestrian rights, and promoted the use of technology for implementing solutions such as the development of useful mobile apps for different users of the road.
Kabataan para sa Ligtas na Kalsada is part of CIFAL Philippines' national road safety campaign that will culminate in an International Road Safety Multi-stakeholder Conference in November, to be hosted by the University of the Philippines (UP) and CIFAL Philippines for United Nations Institute for Training and Research (UNITAR).
For more photos of this event, visit the CIFAL Philippines Facebook page.