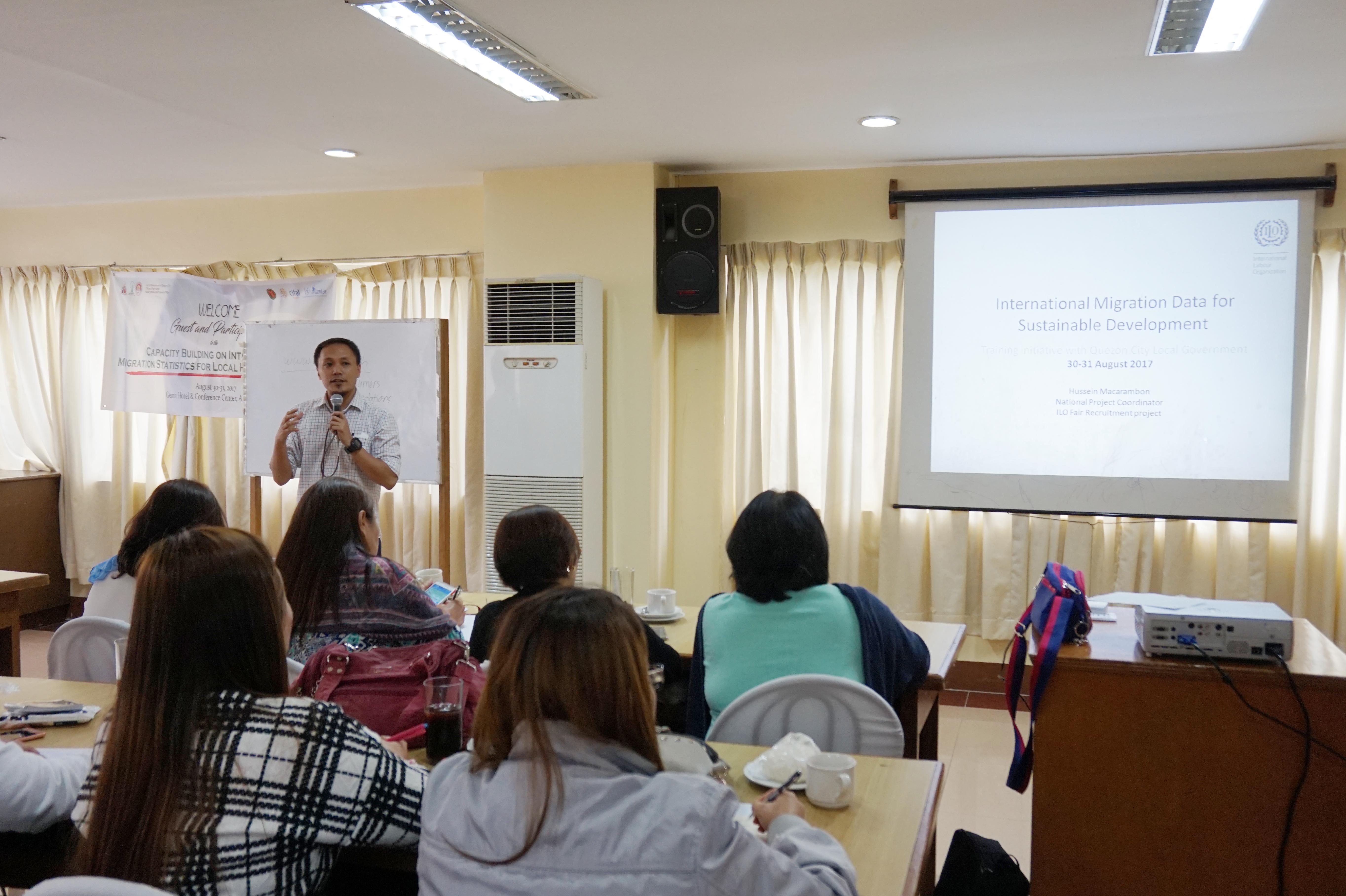 ANTIPOLO CITY, PHILIPPINES – Members of the Quezon City Migration and Development Council (MDC) successfully completed CIFAL Philippines' capacity building workshop on migration data for sustainable development. The workshop, held from August 30 to 31, 2017, included lectures from experts and practical exercises on migration, data, and sustainable development.
Dr. Nimfa Ogena of the University of the Philippines Population Institute (UPPI) gave an introductory lecture on definitions, concepts, and parameters in international migration, as well as possible sources of data on migration, milestones for improving migration statistics, and challenges to the use of such data.
Dr. Marla Asis of the Scalabrini Migration Center (SMC) led a session on the finer points of international data sources, issues, and challenges. Qualitative and quantitative methods as well as ethical principles and practices for data collection, processing, dissemination, and reporting were discussed.
International Labour Organization (ILO) Philippines' Hussein Macarambon presented the link between migration data and sustainable development by kick starting the sessions with a short activity where trainees identified the Sustainable Development Goal most relevant to their respective offices and their migration and development-related initiatives. The exercise was followed by a discussion of possible sources of data in different levels as well as appropriate methods.
Atty. Golda Roma of the UN Development Programme's Joint Migration and Development Initiative (JMDI) dug deeper into methodologies of migration data collection and utilization through a talk on existing prototypes for such activities and held an exercise where trainees identified the current state of their data collection. Atty. Roma also led a session on mainstreaming migration in national and local development.
In the culminating activity of the workshop, the participants drafted a work plan that featured clear engagements between migration and local development indicators. The plan showed key targets and objectives, indicators, proofs of achievement, and contributions of different offices in the local government unit.
The Quezon City MDC is led by the Public Employment Service Office, and includes representatives from the Barangay (Village) Operations Center, City Planning andDevelopment Office, Community Relations Office, Health Department, Information Technology and Development Office, Personnel Office, Public Affairs and Information Services Office, Social Services Development Department, Communications Coordination Center, and Disaster Risk Reduction and Management Office.
This activity is second of a series of workshops on migration affairs and issues. A third one will be held in the latter part of 2017.
For more photos of this event, visit the CIFAL Philippines Facebook page.