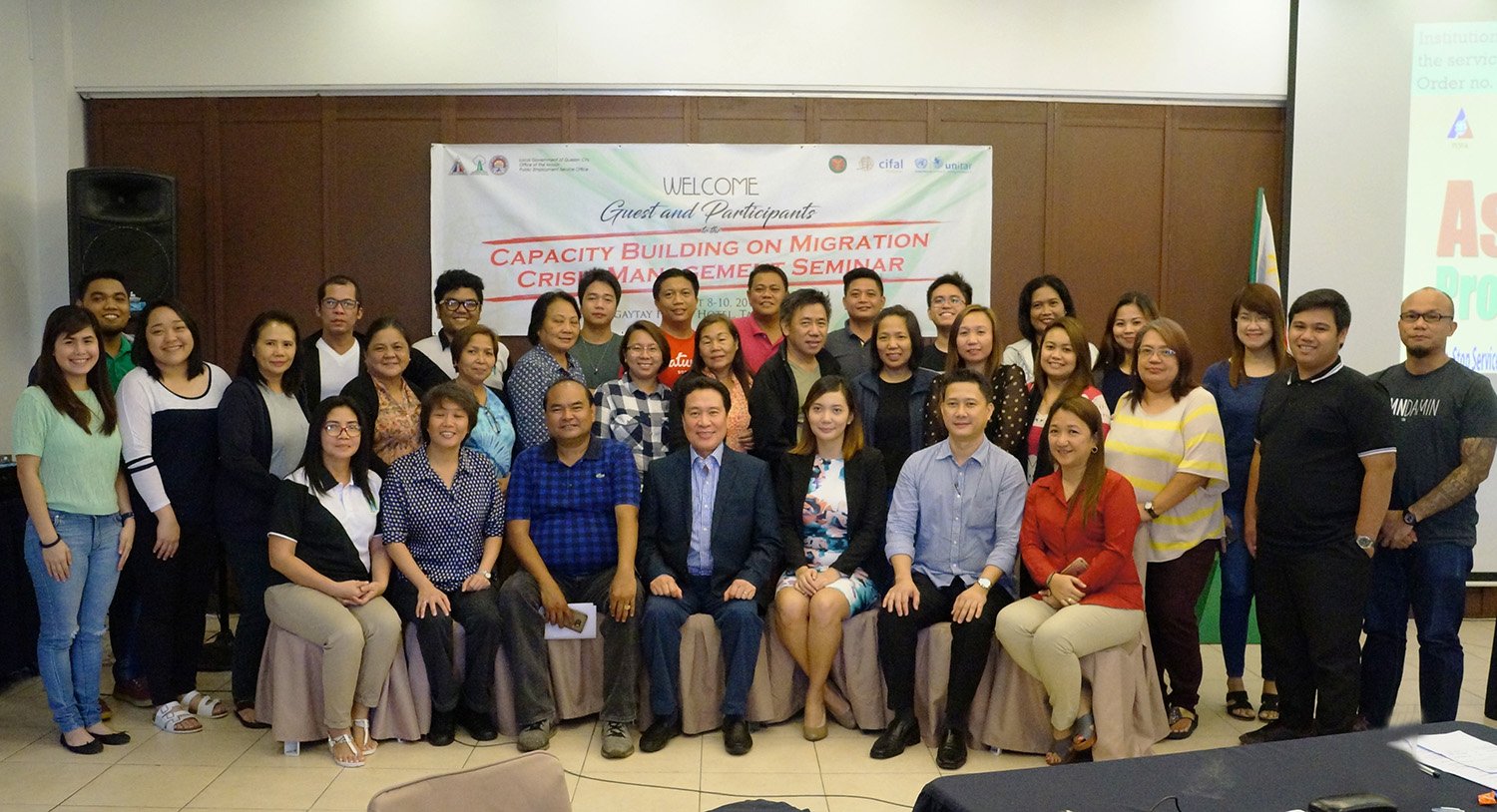 TAGAYTAY CITY, PHILIPPINES – Thirty members of the Quezon City Migration and Development Council (MDC) successfully completed CIFAL Philippines' pioneer training on Migration Crisis Management held from August 8 to 10, 2017.
The 3-day seminar-workshop aims to build the capacities of local government officials in handling various types of crisis situations – from coordinating with national government agencies, international organizations and civil society groups, to providing assistance to migrants and their families post-crisis.
A roster of expert speakers introduced the basic concepts of crisis management for both international and local emergencies, and facilitated exercises to test the participants' comprehension of the theoretical and practical lessons presented.
Ricardo Casco from the International Organization for Migration (IOM) outlined the different kinds of migrants and their varying vulnerabilities to crises, and provided an introduction to the Migration Crisis Operational Framework (MCOF) used by the IOM in preparing and responding to emergency situations.
Meanwhile, Joanna Rodriguez from the Commission on Filipinos Overseas (CFO) presented a crash course on the Migrants in Countries in Crisis (MICIC) guidelines and assisted the participants in co-relating the international crisis management tool with their local disaster risk reduction plan.
The participants were also given an idea of how Philippine foreign posts handle crises during a lecture by Labor Attaché Rustico dela Fuente, who shared his experiences in managing conflict and health emergencies while he was stationed in the Middle East.
By the end of the training course, the group was able to draft an action plan for managing migration crises, which will eventually be adopted by the Quezon City government.
The Quezon City MDC is led by the Public Employment Service Office, and includes representatives from the Barangay (Village) Operations Center, City Planning and Development Office, Community Relations Office, Health Department, Information Technology and Development Office, Personnel Office, Public Affairs and Information Services Office, Social Services Development Department, Communications Coordination Center, and Disaster Risk Reduction and Management Office.
This Migration Crisis Management training was jointly developed by CIFAL Philippines, IOM Philippines and CFO. An extended version of the course will be offered online by CIFAL Philippines through the University of the Philippines Open University (UPOU) by 4th quarter 2017.