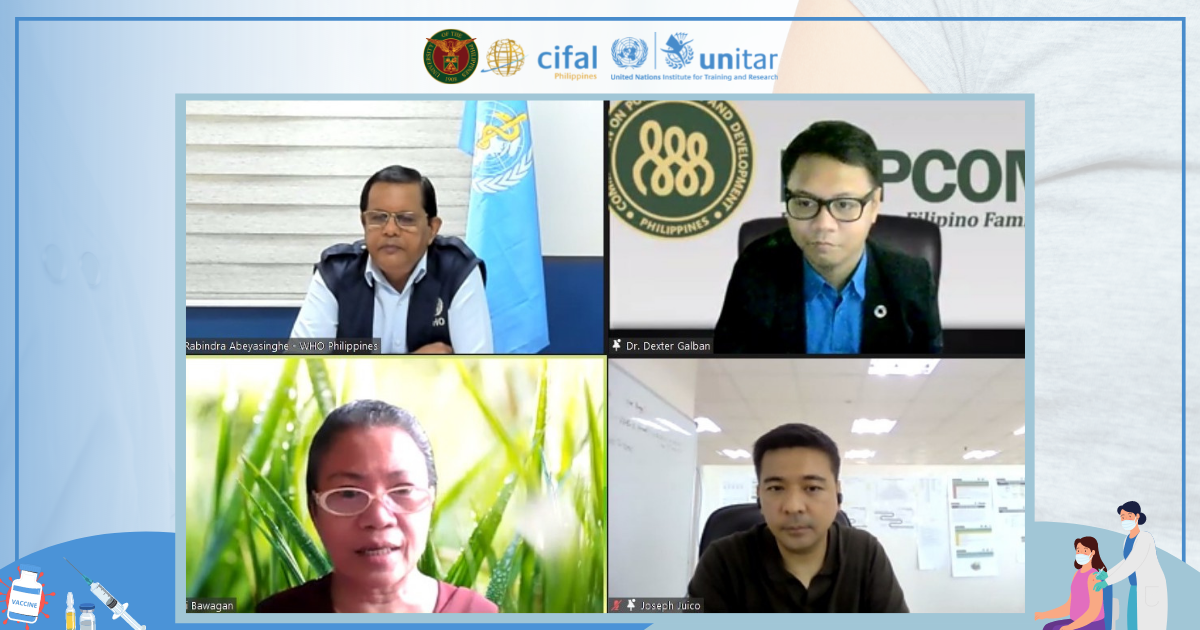 17 June 2021 – The UP-CIFAL Philippines, through a webinar entitled "CommUNITY for Immunity: Partnerships for COVID-19 Vaccination Programs," discussed how local governments and other institutions, such as the academe, can collaborate to launch initiatives to combat the challenges brought by the pandemic.
The virtual event emphasized how partnerships could scale up programs on COVID-19 testing and vaccination, and linked the partnerships on the contribution to the achievement of the Sustainable Development Goals 3 (Good Health and Well-Being), 11 (Sustainable Cities and Communities), and 17 (Partnerships for the Goals).
Mr. Joseph Juico, the Co-Chairperson of the Quezon City COVID-19 Task Force, presented the current COVID-19 vaccination plan of action of the city. In line with Mr. Juico's discussion, Dr. Aleli Bawagan, the Vice Chancellor for Community Affairs of the University of the Philippines Diliman, shared their partnership with the Quezon City Local Government—the Bakunahan sa UP Diliman (Vaccination in UP Diliman) to reach and inoculate more of its citizens. The Bakunahan sa UP Diliman project utilized the facility of the University to serve as one of the biggest vaccination hubs in the country.
Dr. Rabindra Abeyasinghe, the Representative to the Philippines of the World Health Organization, shared his insights on and lauded the partnership of the local government and the academe in their contribution in the global action to attain herd immunity. He also reiterated the importance of collaborations to ensure more efficient programs against COVID-19.
The Quezon City Local Government and UP Diliman both pledged to continue their innovative partnership and urged other local governments to link with other institutions to strengthen their respective COVID-19 program roll outs.
Watch the recording here: https://youtu.be/xEM1BrT3qZU