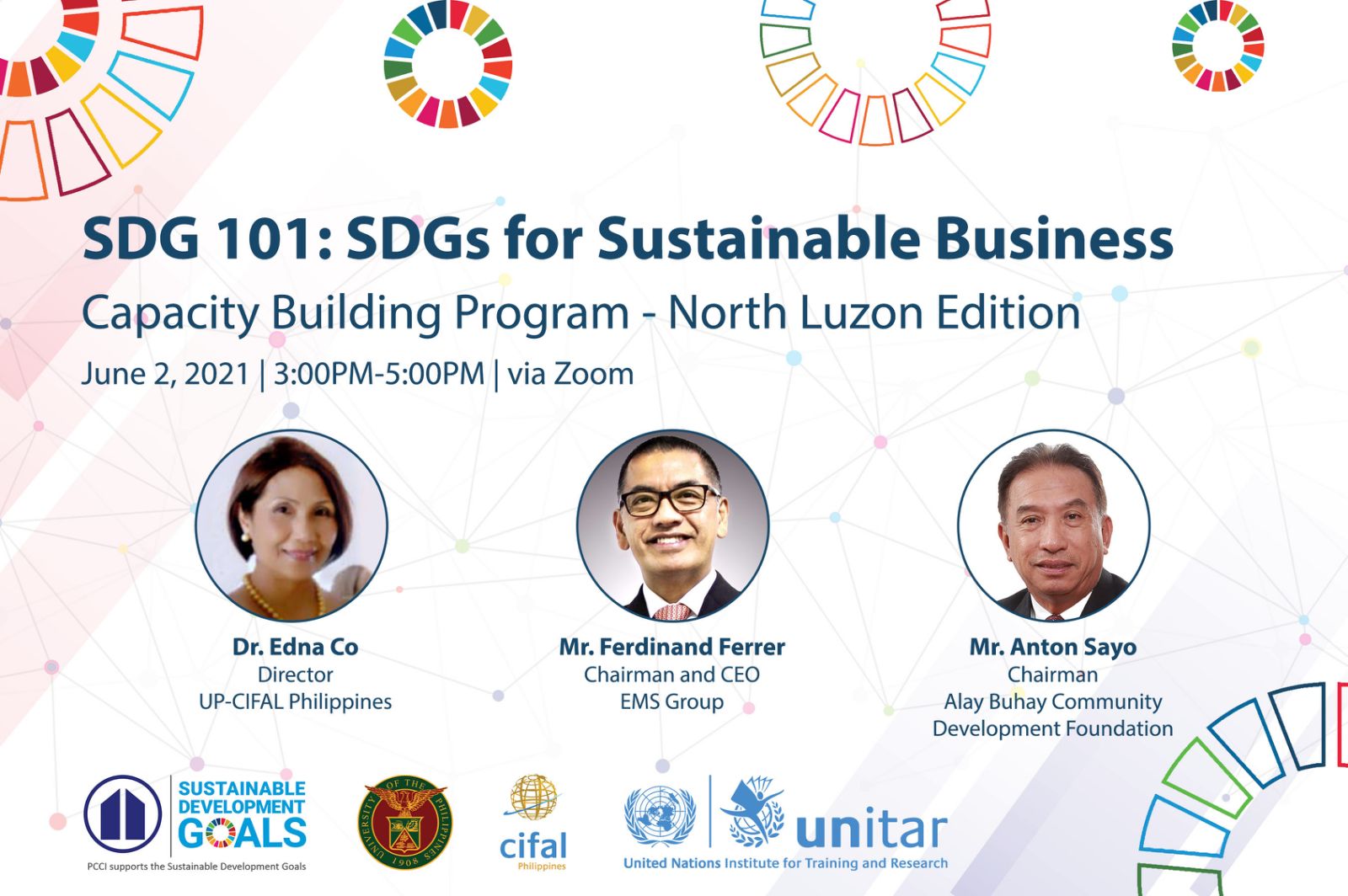 02 June 2021 – The UP-CIFAL Philippines, in partnership with the Philippine Chamber of Commerce and Industry (PCCI), held a capacity building entitled "SDG 101: SDGs for Sustainable Business."
The virtual event aimed to introduce the importance of incorporating SDGs into PCCI's business operations and to demonstrate how integrating the SDG framework into business operations makes it sustainable and efficient.
The first session covered the beginnings of the United Nations 2030 Agenda and the SDGs as a network of targets, delivered by the UP-CIFAL Philippines' Director, Dr. Edna Co. Complementing the first discussion, Mr. Ferdinand Ferrer, the President and CEO of the EMS Group of Companies, delved into practice by sharing how their company transitioned from corporate social responsibility (CSR) to corporate shared value (CSV) to the sustainable development goals (SDGs). Lastly, Mr. Anton Sayo, the Chairman of Alay Buhay Community Development Foundation, shared how their organization resolves a public health concern like Tuberculosis through partnerships and networks.
The online orientation was attended by the members of the PCCI North Luzon chapter, and most especially by the organization's President, Ambassador Benedicto Yuijico. Other officials from PCCI also had a special participation in the event, including Ms. Ma. Alegria Sibal-Limjoco (Chairman of PCCI and Director for Membership and the SDG Committee), Ms. Gregoria Simbulan (Area Vice President of PCCI North Luzon), and Ms. Nora Lacuna (Chair for Corporate Social Responsibility Committee and Member of the PCCI SDG Committee). This partnership between UP-CIFAL Philippines and PCCI aims to encourage more to follow the movement of integrating SDGs into their businesses.