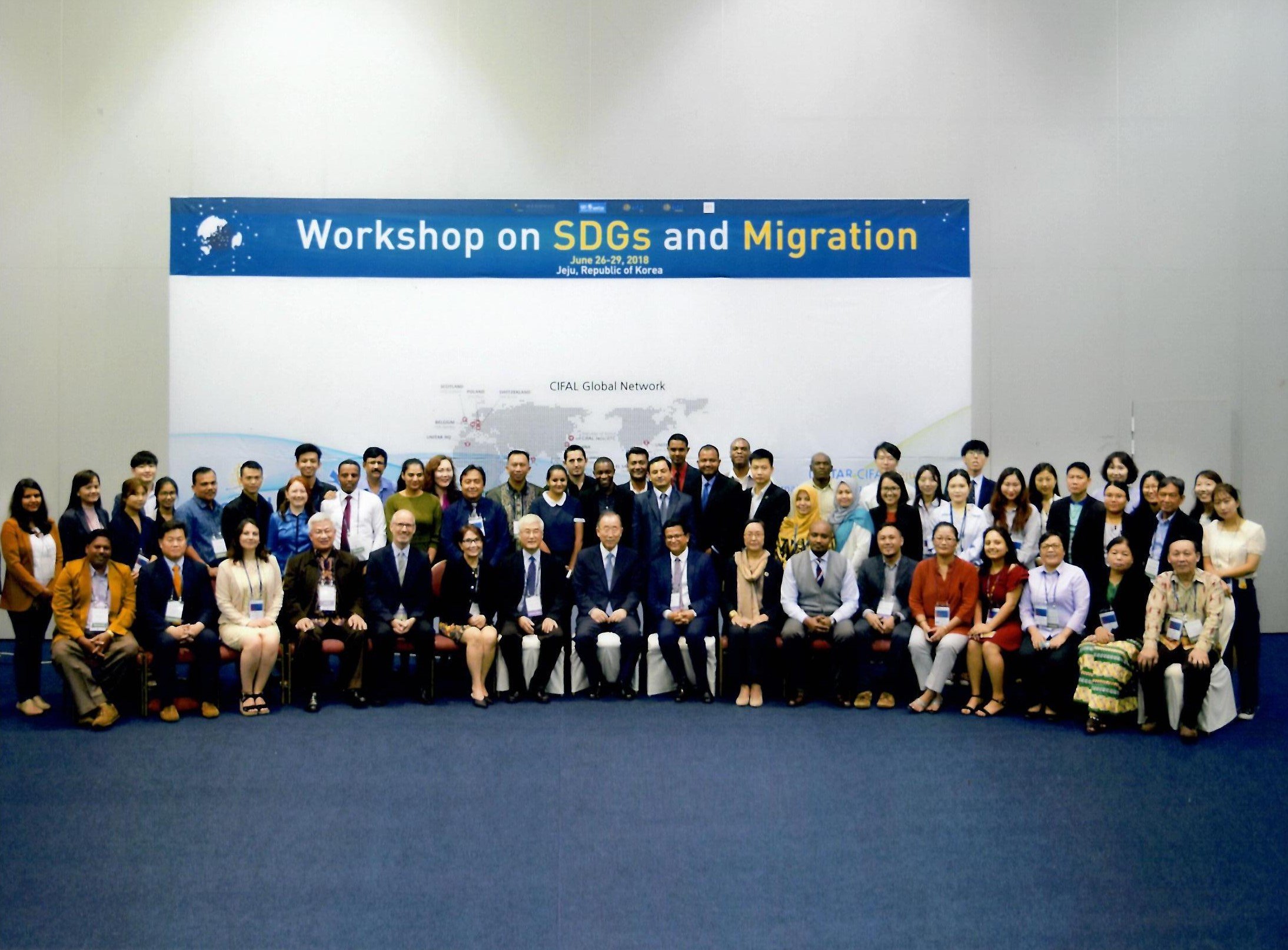 JEJU, SOUTH KOREA—UP CIFAL Philippines, together with CIFAL Jeju and Stockholm-based International Institute for Democracy and Electoral Assistance (International IDEA), conducted a workshop on Sustainable Development Goals (SDG) and Migration. Thirty eight participants from 18 countries gathered to talk about issues on migration, trafficking, and refugee crisis.
Nikhil Seth, Executive Director of UNITAR from Geneva, and CIFAL Jeju Director Ambassador Ma Young-Sam officially opened the workshop.
A diversity of situations and cases as well as the seemingly daunting challenges of migration were shared by the resource persons amongst the participants.
Keynote speakers were  Lars Johan Lonnback from the International Organization for Migration (IOM) in Bangkok and UP CIFAL Philippines Director Dr. Edna E. A. Co. Both speakers highlighted the need to embrace and deal with migration given the diverse types of migrants across the globe and within the Asia-Pacific region and the enormous challenges it brings, including human trafficking and the rise of refugees and asylum seekers. The speakers led the panel of resource persons, namely Hussein Macarambon of the International Labor Organization (ILO) Manila, Leena Rikila Tamang of the International IDEA Asia-Pacific region, and Dr. Samuel Uguy from Indonesia.  Mihoko Kumamoto from UNITAR Hiroshima facilitated the panel discussion and open forum.
Professor Michelle Palumbarit of the University of the Philippines, Ms. Lina Antara of International IDEA, and Ms. Seonyoung Lee of IOM Korea opened vibrant discussions and enabled the participants to exchange experiences and insights as well as raised continuing questions about civil rights and marriage migrants, political rights, participation and voting rights of migrants, economic rights and social protection of migrants, combating trafficking, and social integration of migrants.
Workshop participants engaged the panel of speakers on international cooperation, highlighting the links between national and international cooperation and the impact of international cooperation and its various instrumentalities such as covenants and agreements on the national level.
The Cityshare methodology sketched the plans of the different participants and how these could contribute to the future of migration.
Between sessions, the resource persons witnessed the grand opening of the Jeju Forum Peace and Prosperity 2018 which brought together Korean ministers, important international guests, and the participation of the renowned former UN Secretary General Ban Ki Moon. On the third day of the workshop, Ban wowed the workshop participants with a brief visit and photo session. Likewise, Jeju Governor Won Hee Ryong came to visit the workshop participants.