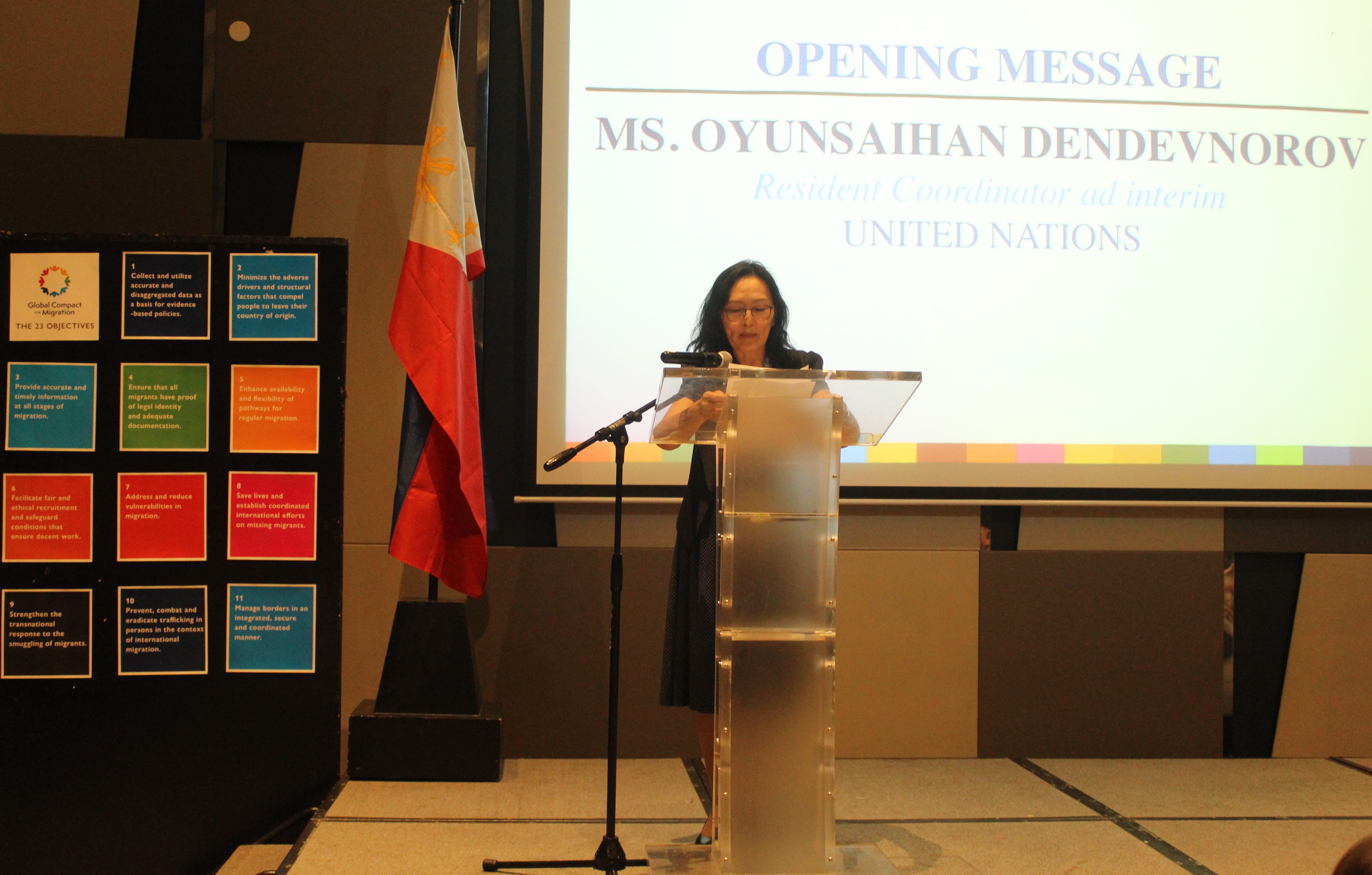 OPENING MESSAGE
Oyunsaihan Dendevnorov, United Nations (UN) Resident Coordinator, ad interim
CIFAL High Level Forum on Global Migration
Quezon 3 Ballroom, Seda Vertis North, Quezon City | 2 December 2019
Honorable Secretary Teodoro Locsin, Jr.;
Esteemed guests, partners and officials from the government;
Colleagues in the United Nations –
Good afternoon and a warm welcome!
Nineteen years ago, the United Nations General Assembly proclaimed December 18 as International Migrants Day in recognition of the full protection of the human rights and fundamental freedom of all migrants.
This year, the International Organization for Migration reports 272 million migrants around the world – an increase of 51 million in just 10 years. While most migrants leave their homes willingly, around 13 million of them are refugees and asylum seekers who are being forced to flee.
Migration is not expected to be risky. But when it is done illegally or outside the scope of international agreements, migrants are exposed to exploitation, discrimination, hazards and human rights violations.
These acts amount to direct violation of human rights: civil, political, economic, social and cultural rights. Migrants are often illegally detained, tortured, or denied due process. They have no legal claim to health services, housing and education.
Disturbingly, human rights violations against migrants are often fueled by prejudice and xenophobia. The tendency to ostracize migrants has negatively affected their well-being. In many cases, they are seen as undeserving of human rights – and subjected to unimaginable abuse.
I have mentioned only some of the most pressing issues confronting migrants. There is unmistakably a great need to address an urgent concern about the protection and safety of migrants. The United Nations stands ready to work with governments and institutions towards a human rights-based approach to migration and protective action.
The UN advocates for a human rights-based approach to migration which puts migrants at the center of migration policies and governance.
And what have we, the International Community, achieved so far for our migrant populations?
The most important step we have taken for our migrants is 'recognition'. Recognition of the reality that their situation deserves a more humane, thoughtful and coordinated approach.
This started at a UN Summit on September 19, 2016 which saw all 193 Member States unanimously adopting the New York Declaration for Refugees and Migrants. The Declaration is a robust set of commitments and is a milestone for global solidarity and refugee protection. It underlines shared commitments between countries to protect those who are forced to flee and to support host countries to shelter them.
The UN followed through the global commitment by working on the 'Global Compact for Safe, Orderly and Regular Migration' in December 2018 to strengthen the provisions in the New York Declaration. The implementation of the Global Compact focuses on key, concrete actions such as strengthening labour rights for migrant workers, improving migration for evidence-based policies, saving lives and coordinating international efforts to locate and assist missing migrants.
We have recognized for the first time the contribution of migration to sustainable development, ensuring we are leaving no one behind. This is well articulated in 11 out of 17 Sustainable Development Goals that contain targets and indicators for migration or mobility.
Migration is and will continue to be a feature of contemporary societies. People have been moving across borders since borders have gone up. Globalization has made our world smaller and the international movement of people has become an integral part of our lives.
As Secretary-General Antonio Guterres has said, "Migration is a powerful driver of economic growth, dynamism and understanding. It allows millions of people to seek new opportunities, benefiting communities of origin and destination alike."
In order to harness its potential, we need to address the real challenges of migration while reaping its benefits. We must ensure that migration governance is people-centered and our approach, rooted in human rights.
In 2020, we will celebrate 20 years since the Declaration of the International Migrants Day. It would be a good opportunity for us to reflect on how much we have done, learn from our lessons, and strengthen current systems to support migrants and refugees.
On behalf of the Secretary-General of the United Nations, I am honored to welcome such an esteemed group of experts and human rights advocates in this high-level forum. I look forward to hearing your thoughts on how we can further protect the rights of our migrants and refugees.
Thank you very much.