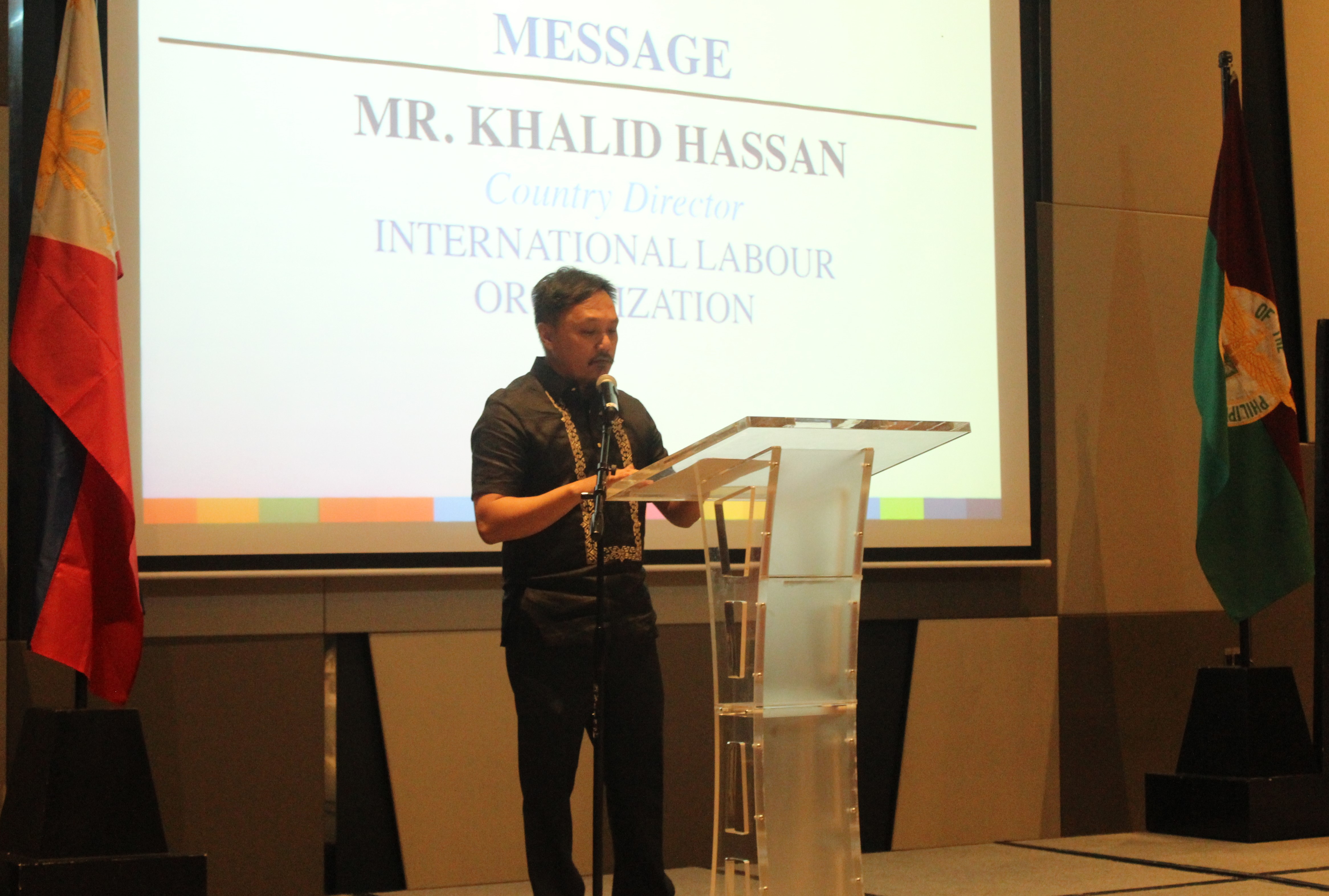 Message of support at the High-Level Forum on Global Migration
By Khalid Hassan (delivered by Hussein Macarambon)
Director of the International Labour Organisation (ILO) Country Office for the Philippines
2 December 2019, Quezon City, Philippines
Mr Honourable Secretary Teodoro Locsin, Department of Foreign Affairs

Honourable Congresswoman Rowena Taduran, House of Representatives

Honourable Undersecretary Sarah Lou Arriola, Department of Foreign Affairs

Ms Oyunsaihan Dendevnorov, UN Resident Coordinator ad interim

Dr Edna Co, Director of UP-CIFAL

Representatives from the diplomatic corps,

Colleagues from the United Nations in the Philippines,

Our partners from the government, workers and employers organizations,

Representatives of the civil society, recruitment agencies, media and project partners,

Distinguished guests, ladies and gentlemen,

Magandang umaga sa inyong lahat!

(Good morning to all of you)
Plotting the pathway towards the Global Compact for Migration is crucial for the Philippines to:
enhance governance of migration,

improve working conditions of migrant workers, and

uplift their lives as well as their families and communities.
Let me congratulate the Philippine government led by the Department of Foreign Affairs for its leadership, and extend ILO's appreciation to UP-CIFAL for this high-level dialogue.
Indeed, we open this month with this important dialogue and initiative. As you are aware, this month marks the International Migrants Day, which is on the 18th of December.
This year, the ILO celebrates its 100 years of advancing social justice and promoting decent work. President Duterte declared 2019 as the ILO Centenary in the country.
The Philippines was also among the countries that supported the Centenary Declaration for the Future of Work, adopted by governments, workers and employers around the world.
The Declaration reaffirms ILO's mandate since it was founded 100 years ago to protect workers, including migrant workers, to promote decent work and equal treatment, and to end violence and discrimination among workers.
The Global Compact for Migration (GCM) promotes decent work and productivity for migrant and national workers, and shifts misperceptions on migration by readjusting policies to effectively include all labour migration aspects.
Let me take this opportunity to highlight four key points:
Ensuring that labour migration is safe and fair through the gender dimension of GCM, while ending violence against women migrants.
Promoting fair recruitment globally and migrant orientation, and eliminating high costs of recruitment fees.
Supporting return and reintegration of migrant workers through a well-governed labour migration, and
Protecting migrant workers through a rights-based approach and International Labour Standards, specifically the ratification of ILO Convention 181 on Private Employment Agencies.
Migration is as old as human civilization but mostly linked directly or indirectly to the search for decent work.
The UN High-level Dialogues on International Migration of 2006 and 2013 and the Global Forum on Migration and Development (GFMD), established in 2007, among others, helped to mainstream the view that migration contributes to the development of the origin, transit, and destination countries and the migrants themselves deserve better protection of their fundamental human and labour rights.
The adoption of the Global Compact for Safe, Orderly and Regular Migration (GCM) by the United Nations General Assembly in 2018 has provided a broad cooperative framework aiming to facilitate safe, orderly and regular migration, while minimizing the incidence and adverse effects of irregular migration through international cooperation.
The ILO as co-chair and original member of the Global Migration Group promotes wider application of all relevant international and regional instruments and norms relating to migration, and to encourage the adoption of more coherent, comprehensive and better coordinated approaches to the issue of international migration.
Ensuring safe and fair migration is crucial.
The GCM intends to reduce risks and vulnerabilities migrants face at different stages of migration by respecting, protecting and fulfilling their human rights and providing them with care and assistance.
It emphasizes the gender dimensions of labour migration, particularly since half of the migrant worker population from the Philippines and in ASEAN are women, and that women migrant workers are disproportionately vulnerable and affected by violence, abuses, trafficking, discrimination and labour exploitation. The GCM calls for gender-responsive policies, mechanisms and responses in order to achieve safe, orderly and fair migration.
Most migration today is linked directly or indirectly to the search for decent work opportunities. As per the recent ILO estimates, of the 258 million international migrants, 164 million are migrant workers. They constituted more than half of all international migrants and 70 per cent of all working age migrants.
The existing legally binding as well as non- binding migration framework documents bear significance for protection of the rights of migrant workers. They seek to ensure migrant workers' safety, security and welfare.
Yet, countries of origin and destination face several challenges, including those related to fair and responsible recruitment practices, access to justice and complaint procedure within the country and/or between the countries.
We have to take action to promote fair recruitment globally and migrant orientation, and eliminate high costs of recruitment fees.
Higher wages and accessible employment opportunities are the major driving forces for migration.
Besides the milestone set in international migration governance by the GCM, initiatives taken at the regional levels have also been contributing to the protection and promotion of rights of the migrant workers.
Some of the prominent regional endeavours are:
the Colombo Process,

the Abu Dhabi Dialogue, and

the Association of South East Asian Nations (ASEAN) Consensus on the Protection and Promotion of Migrant Workers.
These regional efforts in Asia, where the Philippines plays a pivotal role, contribute significantly to promote safe, orderly and regular migration, strengthen labour migration governance, while also addressing issues of irregular migration.
Key lessons to promote GCM to which the Philippines has a major contribution is its policy and programmes on migrant orientation. Migrant orientation in all the phases of migration-pre-employment, pre-departure, post arrival and return-must be the shared responsibility of countries of origin and countries of destination.
A well-governed labour migration is vital to support return and reintegration of migrant workers.
Reintegration is now deemed an equally important stage in labour migration. Countries of origin, like the Philippines, and countries of destination where OFWs are deployed, must develop programmes for migrant workers to enable skills and technology transfers. To achieve this, programmes that link the skills of migrant workers to employment or entrepreneurial opportunities in the Philippines must be put in place.
The Philippines has to work closely with governments of countries of destination to regulate the operations and business of their recruitment agencies. Just like the Philippine recruitment agencies, counterpart agencies in destination countries should be made accountable to the end-employers, particularly in recruiting OFWs in full compliance with national laws and regulations of both the Philippines and these destination countries.
Finally, each of us has a role to ensure a rights based approach to labour migration. International labour standards of the ILO are important for safeguarding the dignity and rights of migrant workers.
The Philippines is in the position to promulgate employment and recruitment standards which are based on relevant international conventions that it has ratified Conventions 97 on Migration for Employment, 143 on Migrant Workers Supplementary Provisions, 187 on Occupational Safety and Health, and 189 on Decent Work for Domestic Workers.
Of course, we cannot ignore the elephant in the room. Literature would point to the gains of enhancing labour migration governance when all stakeholders are held to account.
The ILO believes that it is the obligation of the employer to finance the costs associated with hiring migrant workers. The Philippines, upon its ratification of Convention 189, has signified its position to protect migrant domestic workers and relieve them from paying excessive recruitment fees that would otherwise put them in a difficult situation such as debt bondage.
The Philippines would thus need to revive its interest in ratifying Convention 181 on Private Employment Agencies.
We at the ILO look forward to our continued collaboration towards the Global Compact for Migration. A few days from now, we will be celebrating International Migrant's Day on December 18. Let us dedicate this Forum as a pledge of commitment to further contribute to the protection and promotion of the rights of Overseas Filipinos Workers and all migrant workers.
Once again, I would like to congratulate the Philippine government through the DFA and UP-CIFAL on this important Forum that will highlight key initiatives of the Philippines toward the Global Compact for Migration.
Thank you and Mabuhay (long live)!