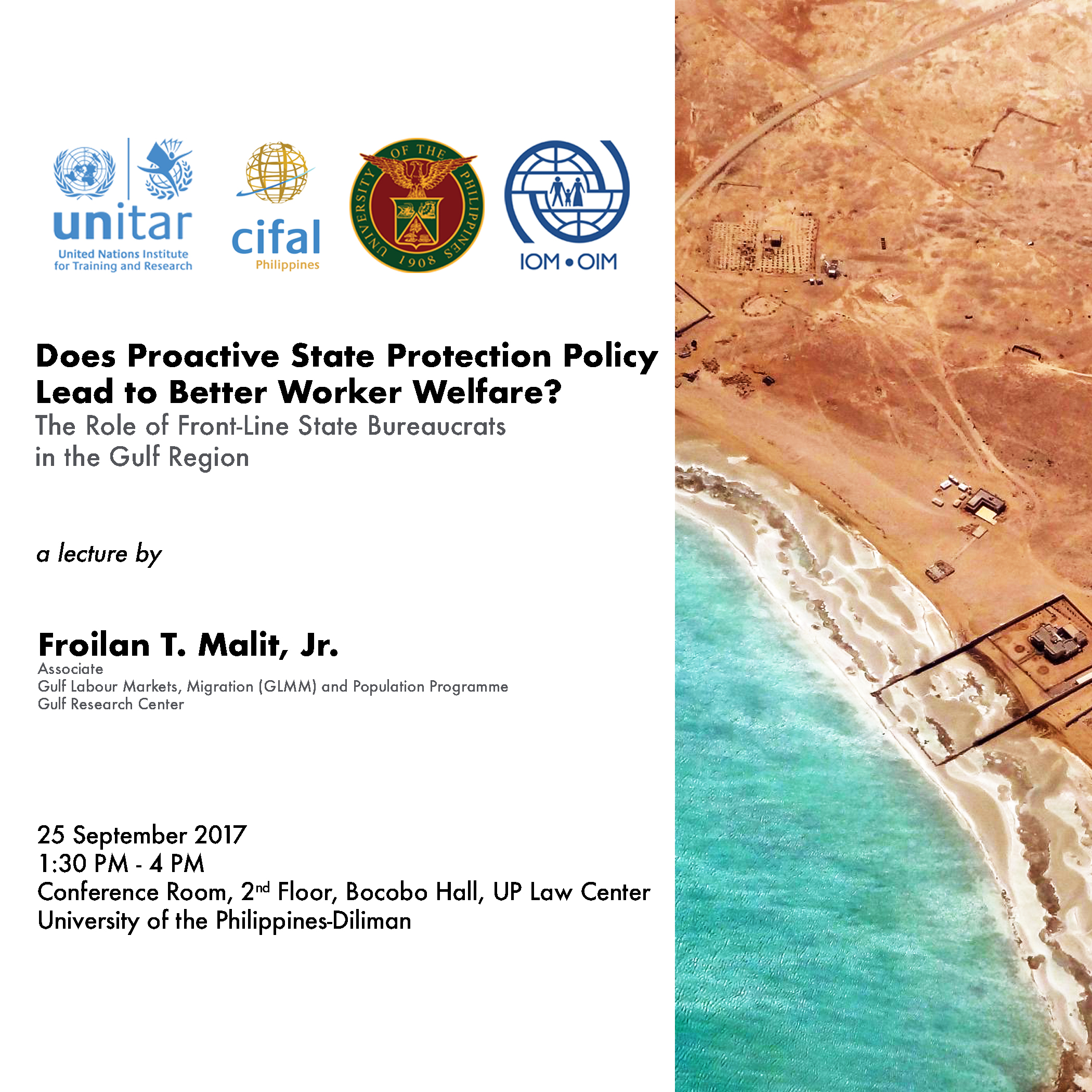 CIFAL Philippines, in partnership with the International Organization on Migration (IOM), would like to invite everyone to a lecture-forum titled "Does Proactive State Protection Policy Lead to Better Worker Welfare? The Role of Front-Line State Bureaucrats in the Gulf Region" with visiting scholar Mr. Froilan T. Malit, Jr. of the Gulf Labour Markets & Migration (GLMM) & Population Programme. The lecture-forum will be held on September 25, 2017 from 1:30 PM to 4:00 PM at the Conference Hall, 2nd Floor, Bocobo Hall (UP Law Center), University of the Philippines-Diliman, Quezon City.
Abstract of the Lecture
Traditional scholarship has identified labor-sending states—acting through the agency of their frontline state bureaucrats—as "powerless rule takers" due to their limited sovereign power to exert legal, economic, and diplomatic influence over destination countries. The asymmetric power relationship has generated a policy dilemma for many labor-sending states: states like the Philippines must choose between protecting their citizens' labor rights and welfare and maintaining labor market access in the Gulf region. Drawing from 100 in-depth qualitative interviews and field observations with Filipino diplomats, labor and welfare officers, and domestic workers between 2011 and 2016, this paper investigates the complex roles and impact of the Philippine state's pro-active migration protection policy on the migrant labor rights and welfare in Qatar, Kuwait, and the UAE. The empirical findings contribute to the larger theoretical debates on the role of the state in international migration by shifting the discourse to the human agency of the state (mainly state bureaucrats) to understand how labor-sending countries determine policy outcomes in the authoritarian destination countries.
About the Speaker
Mr. Froilan T. Malit Jr. is an experienced migration policy researcher with a demonstrated history of working with governments, international organizations, think tank institutions, and various migration research institutions. His notable research projects and consultancies were under International Labour Organization (ILO), International Organization for Migration (IOM), UAE Ministry of Human Resources & Emiratization, Philippine Embassy and Overseas Labor Office and other international research institutes in UAE. At present, he works as an associate of Gulf Labour Markets & Migration (GLMM) & Population Programme. Mr. Malit, Jr. holds two Masters degree – Masters of Science in Migration Studies from Oxford University and Masters in Public Administration from Cornell University. He also has a Graduate Certificate on International Migration from European University Institute Migration Policy Center. Through the years, he published peer-reviewed journal articles, book chapters, technical reports, and other labor and migration policy publications.
Interested participants may sign up by clicking this link: https://goo.gl/forms/YlFDyxGud3LJ55e22. For inquiries and RSVPs, please contact Mr. Andrew Lacsina of CIFAL Philippines at 981-8500 local 4267 or via email: [email protected].