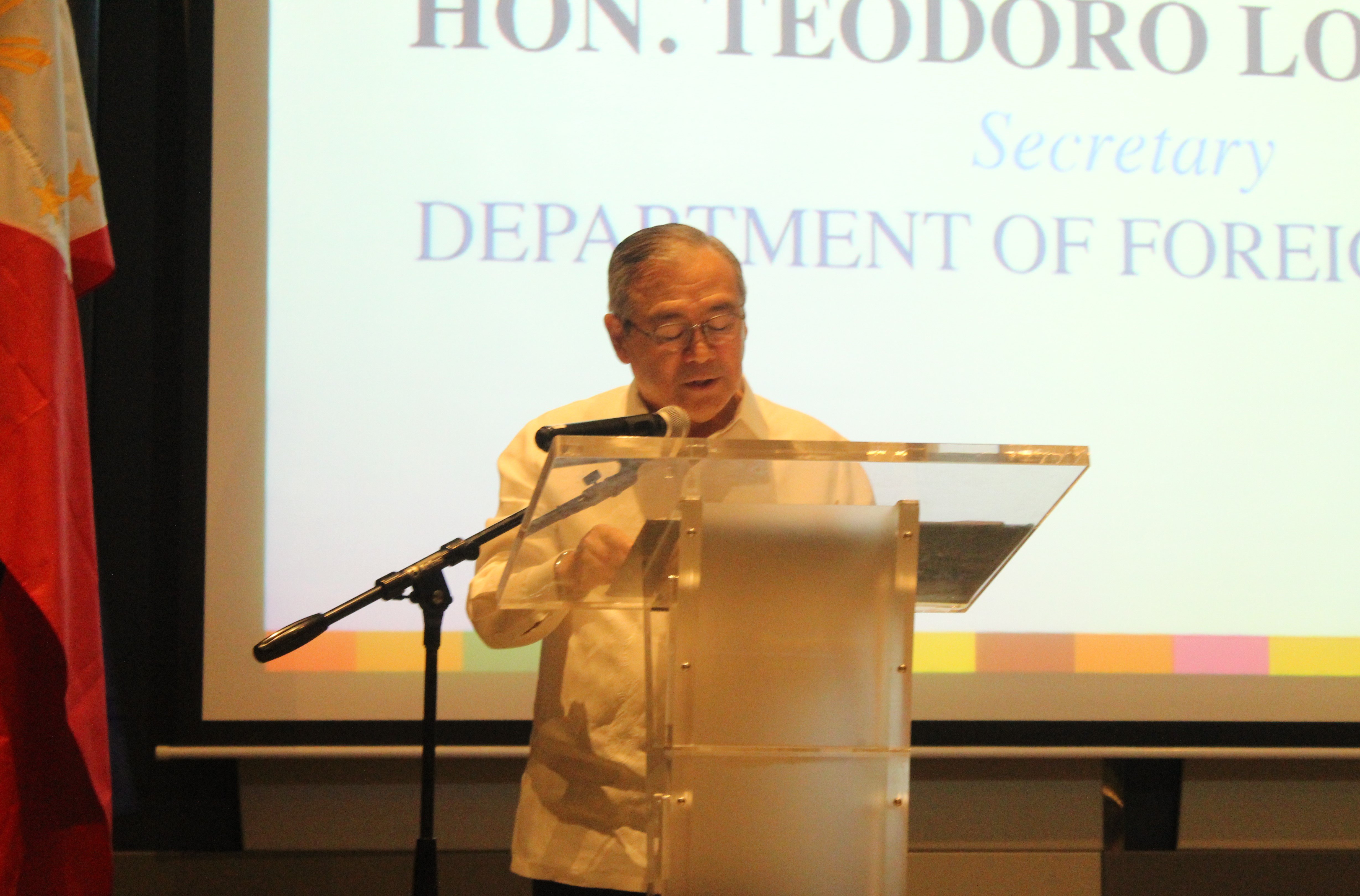 (Keynote address of Foreign Affairs Secretary Teodoro L. Locsin Jr. at the High Level Forum on Global Migration in celebration of the International Day of the Abolition of Slavery, December 2, 2019, Seda Vertis North, Quezon City.)
Excellencies and guests from the diplomatic corps, partners in government and civil society, Gwen, my cousin; I'm sorry was out of town when your dad, my companion in arms in the freedom struggle passed away.
Ladies and gentlemen.
Good afternoon. I am honored to be with you to commemorate the International Day of the Abolition of Slavery, and to join esteemed friends dedicated to the promotion of decency in the migration process—whatever there is of it going by the photo of the little dead boy face down on a Mediterranean shore.
The Global Compact for Safe, Orderly and Regular Migration is of personal importance to me. I was Permanent Representative at our Mission to the United Nations in New York when negotiations on it began. By the time we adopted it in December 2018 in Marrakech, I had become Secretary of Foreign Affairs and the global landscape in terms of support for the Compact had vastly changed.
Many countries—some our friends and allies during the negotiations—withdrew from the Compact under pressure from their political constituencies, borne by rising anti-migrant narratives and the belief that the Compact would infringe on their sovereignty.
In response to the critics, I said at the UN: The Compact does not derogate one iota from sovereignty. On the contrary, it reveals its fundamentally moral nature. A key aspect of sovereignty is the care states must take of people under them even if they are on the move—from foreign countries of origin, through foreign countries in transit, to where finally they end up and are booted out from.
No enforceable obligation can be laid on sovereignty. But certain standards are expected of it. I preferred it to be called a Compact of Decency. And that it's infringement by the abuse or neglect of migrants has as its only sanction one that is self-imposed and fully deserved: the condemnation of one's people and state as children of a lesser god without a drop of compassion and therefore beyond the pale of the most minimal humanity.
And so at the GCM negotiations the Philippines proposed treating migration, as much a matter of migrants' expectations, as of a state obligation to uphold a standard of decency in rites of migrant passage and arrival. If the GCM failed adoption we would not be back where we started but farther back in a far worse place. For failure sends the signal that it is impossible to achieve an international consensus on the most basic morality; that universal values do not exist; that decency is merely an option; that there is no right and wrong; and that every country can treat migrants as they please. There are many ways by which states can regulate the migration process; but only one way to treat migrants: and that is with decency.
Today the Compact is hailed as the first United Nations framework to cover all dimensions of international migration. It provides a 360-degree approach to international migration governance, covering the whole cycle of migration, from pre-deployment to return and reintegration.
The Philippines fought hard for the Compact over two years of difficult negotiations, and I can say with pride that we are one of the global leaders in its conception and implementation.
There were many doubts when negotiations started. But the Philippines said, it can be done. It can be done because we are already doing it. We did not preach. We did not lay down aspirations. Instead, we showed the positive results of our migration governance practices.
These practices are anchored on two principles: upholding the human rights of all migrants, regardless of migration status; and recognizing the positive contribution of migrants to sustainable development, both of which we were able to embed in the Compact.
The stamp of legal entry on a migrant is not an affirmation of his humanity. It is a validation that we, the hosts, are humans as migrants never ceased to be when they suffered in their countries—thanks to Western wars; when they endured worse privations as they fled therefrom, running greater perils; and facing graver risks when they finally stop running in a strange land among hostile strangers. These practices continue to guide us in our implementation of the Compact.
On human rights, we are focused on ending the oppressive nature of the kafala system in the Middle East. This is because the kafala system has been used to "legitimize" the treatment of our migrant workers as property, no more than slaves—it has put them in harmful and humiliating working and living environments.
President Duterte will not stand for the exploitation of his people. Using the Compact as a platform, we are working with Middle East countries—all of whom adopted the GCM—to ease restrictions on migrant workers' labor mobility; and to allow them to move to another employer; and exit from countries of destinations without being constrained by their sponsors-employers.
An example is our strong partnership with the Kingdom of Bahrain in the issuance of "flexible" visas. These visas regularized approximately 1,000 Filipino migrant workers, most of them domestic workers. The flexible visa is a work and residency permit, valid for two years and renewable indefinitely. It also includes medical insurance and a return ticket to the Philippines should the OFW wish to return to the country.
As I speak to you here, our embassy in Manama is helping another batch of Filipino migrant workers in irregular situations to acquire residency and work permits in Bahrain through the flexible visa program.
The Philippines and the Kingdom of Bahrain have also signed an agreement for a standard employment contract that will institutionalize lower deployment costs, fair and ethical recruitment policies and decent work, and protection of migrant workers against abuse. Foreign Affairs Undersecretary Sara Lou Arriola was the driver of these initiatives. She blazed the trail, she cut the path and paved the road to these reforms. Please give her a warm applause.
United Arab Emirates is another partner. We are jointly pilot testing the Comprehensive Information and Orientation Program. It provides up-to-date information on rights and obligations of employers and workers, access to remedies for abuse, standard working conditions particularly in domestic work and in the hospitality and retail service sectors.
At the UN General Assembly in September at New York, I also signed with UAE a landmark MOU on Cooperation in Human Trafficking.
Our initiatives extend beyond the Middle East. In Canada, we are doing the first government-to-government pilot testing of IOM's International Recruitment Integrity System. IRIS promotes ethical recruitment and decent work principles, and lays down safeguards for the rights of migrant workers. It does so by working with committed recruitment agencies in the Philippines—few and far between—and the provinces of Alberta and Saskatchewan, as well as engaging employers in Canada to set and sustain ethical recruitment services.
On sustainable development, the Compact is now mainstreamed into our Philippine Development Plan. You will find an entire chapter on "Safe, Orderly, and Regular Migration" in the PDP, embodying our GCM National Implementation Plan. The plan establishes a benchmark for relevant government agencies in determining how the Philippines is achieving the Compact's objectives and commitments, both as a migrant-sending and a migrant-receiving country.
The Philippine Statistics Authority has developed guidelines on collection, and use of migration data based on international migration statistics and standards. This enables government agencies to share comparable data on international migration. It responds to the Compact's emphasis on the importance of data and statistics for effective policy formulation. If you don't know the numbers you can't know the approach and solution.
In Dubai, where I inaugurated the first Passport Renewal Center outside of our embassy or consulate, I said: "Every effort, every step that we make toward national security and economic security must always be guided by the beacon, that is the protection and promotion of the rights and welfare of all overseas Filipinos. We get lost otherwise; this has been shown time and again. No effort made nor expense incurred for our people abroad but has paid handsome dividends for us at home; while I can think of a couple things on which effort and expense have been wasted at home."
Many countries continue to push back against the Compact, but our commitment remains steadfast. With your help and guide, the Philippines will continue to be the bright light on the path to the full implementation of the Global Compact for Migration—the city on the hill that is home away from home. Thank you.