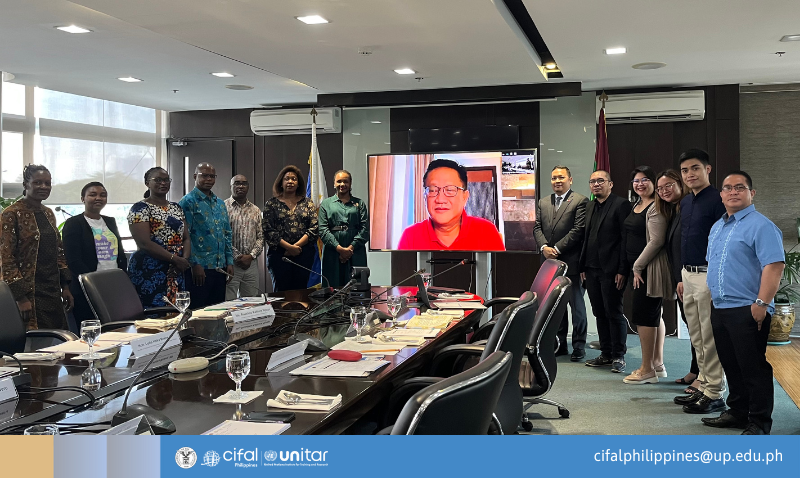 11 August 2023—UP-CIFAL Philippines (Centre International de Formation des Authorités et Leaders), a hub for training, advocacy, and research on the interwoven themes of the 2030 Agenda for Sustainable Development, migration, and gender equality, played host to Roseline Njogu, Principal Secretary for Diaspora Affairs of Kenya, and Delegation in a collaborative effort to strengthen migration strategies and knowledge exchange. The visit aimed to tap into the Centre's extensive expertise in managing migration issues and explore avenues for joint efforts in enhancing migration strategies in an academic setting.
During her visit, PS Njogu, together with the Kenyan delegation composed of Hon. Lydia Haika Mnene, Member of Parliament and Chairperson of the Diaspora and Migrant Workers Committee, Mr. Lawrence Murithi Waweru, Director of Diaspora Affairs, Ms. Irene Wangari Karari, Deputy Director of Diaspora Affairs, Mr. Jackson Nyagaka Onkoba, Chargé d'Affaires ai., Kenya Embassy Jakarta, Dr. Dorothy Chebet Rotich, Assistant Director/Asia Directorate of the State Department for Foreign Affairs, Ms. Maurine Atieno Abungu, Commercial Attaché of the Kenya Embassy Jakarta, and Ms. Fidlizah Samba Mwagogo, Clerk Assistant III of the Parliament met with Dr. Noel Christian A. Moratilla, Deputy Director of the UP Office of International Linkages and staff members of the UP-CIFAL Philippines.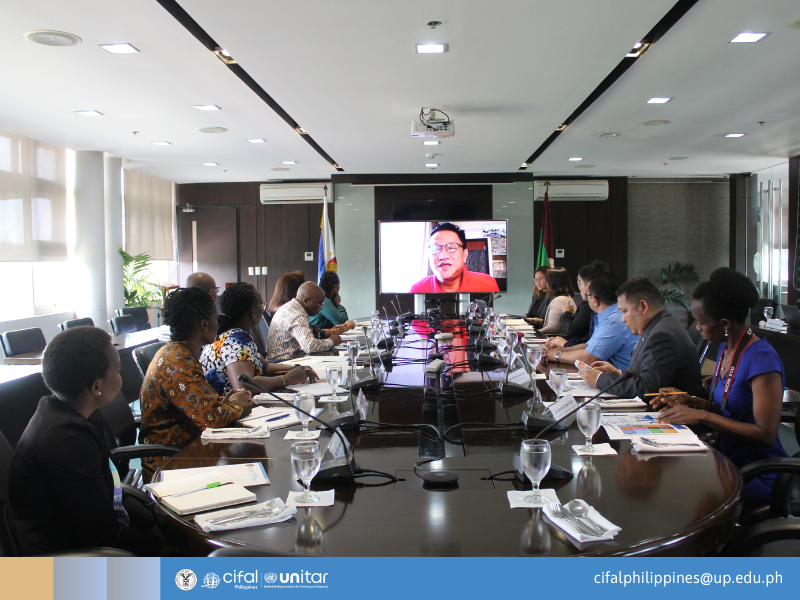 In a notable gesture, UP President Atty. Angelo A. Jimenez joined the meeting via Zoom and extended a warm welcome to the delegation through an online message, reaffirming the University's commitment to fostering international collaboration and knowledge-sharing. Discussions revolved around the challenges and opportunities presented by diaspora engagement, remittances, and policy frameworks. The collaborative exchange of insights sought to benefit both nations, as Kenya looks to leverage the Philippines' experience to strengthen its own capacity-building initiatives among universities in Kenya.
The visit concluded with an optimistic note, paving the way for future collaborations between Kenya and the Philippines in the realm of migration and diaspora affairs. As both nations strive to enhance their strategies, the partnership promises to yield innovative solutions and lasting benefits for their respective communities.
For media inquiries, please contact:
Andreana Gabrielle David (Ms.)
Communications Officer
UP-CIFAL Philippines
Email: [email protected]