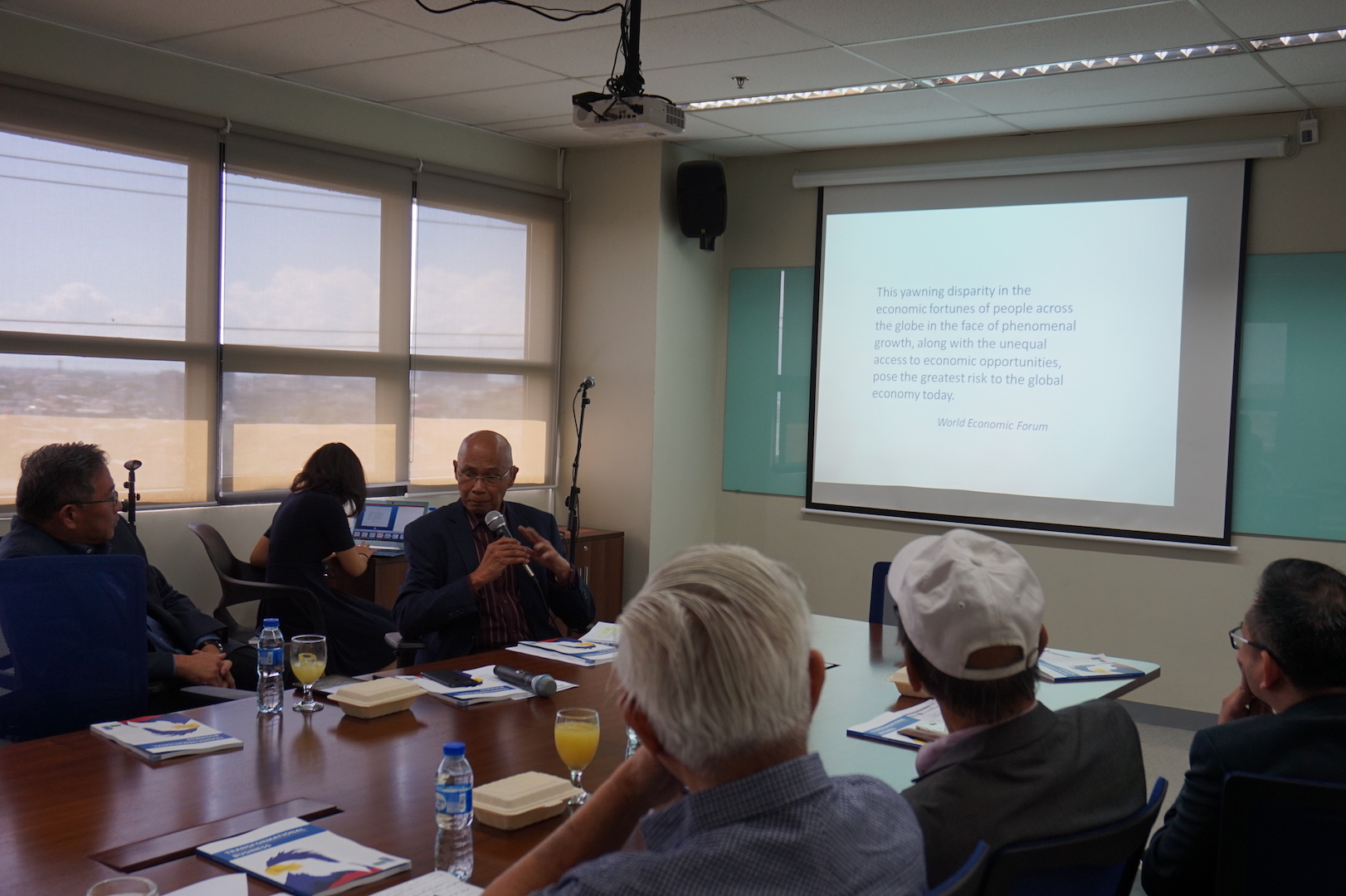 TAGUIG CITY – Following a small, informal round table discussion (RTD) in August 2017, CIFAL Philippines hosted a second RTD on inclusive business on Monday, 16 October 2017, at UP Bonifacio Global City. Experts on business administration from the academe and practitioners from the private sector gathered in the RTD to discuss strategies for progress in business, entrepreneurship, as well as business education.
Former Philippine Prime Minister Cesar Virata and former Senate President and UP President Edgardo Angara delivered brief messages of support to the approaches for inclusivity in capitalism and business.
Dr. Niceto Poblador, former UP professor of economics and management, presented his paper "Western Capitalism at the Crossroads: Finding a New Role for Business." The paper discussed the plight of the business and trade landscape and possible strategies in finding how "business firms can co-align the financial interest of their owners and those of the other groups that have a stake in the business."
Following the paper presentation were reactions from Dean Rodolfo Ang of the Ateneo Graduate School of Business, who shared insights on business education and social entrepreneurship, and from Dean Larry Digal of the UP Mindanao School of Management, who gave examples of initiatives on inclusive business.
An open forum took place where the experts expressed their remarks on Dr. Poblador's paper and shared notes from their experience in business, entrepreneurship, and education.
A third activity is being planned jointly by CIFAL Philippines and the Management Association of the Philippines as a sequel to the first two RTDs with hope that a bigger forum on transformational business and engagement with business as well as business management schools are achieved. The date and venue of the forthcoming activity will be announced soon.
A livestream video and photos from the event are available for viewing on the CIFAL Philippines Facebook page. To see the photos, click here. To watch the recorded broadcast, click here.
See the full presentation of Dr. Poblador below:
Dr. Niceto Poblador - Western Capitalism at the Crossroads