Each CIFAL specializes in thematic areas that are defined by the needs and priorities of the regions they serve. Their training programs provide access to knowledge, resources and best practices, while promoting multi-stakeholder collaboration in support of sustainable development.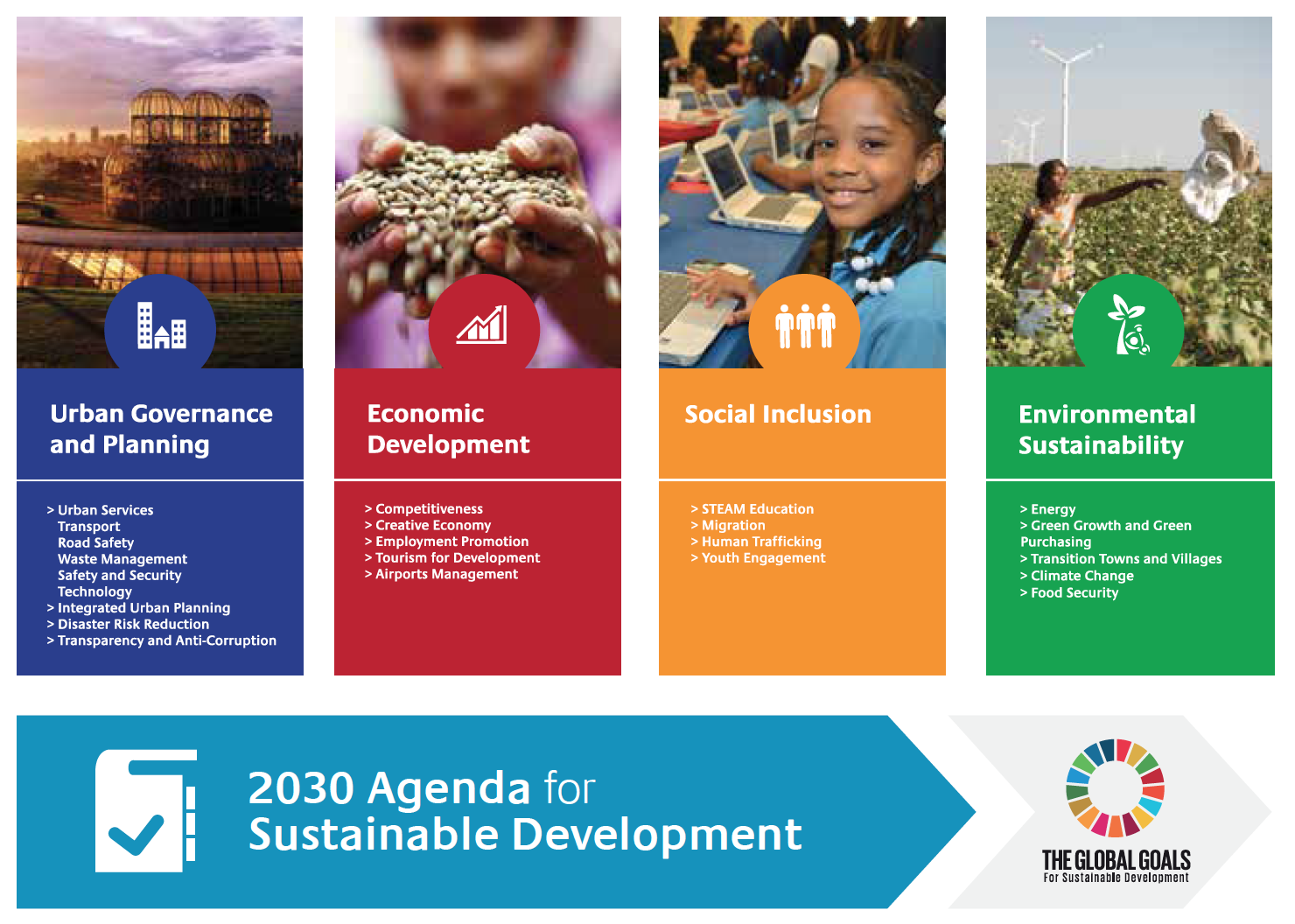 ---
Urban Governance and Planning
More than half of the world's population is now urban. The world has been rapidly urbanizing at an unprecedented pace. One century ago, two out of 10 people in the world were living in urban areas. By the middle of this century, it is expected that out of every 10 people on the planet, 7 will be living in urban areas. Urbanization is one of the defining trends of our time.
It poses significant challenges to humanity but it can also bring many opportunities if cities are able to understand and anticipate trends, while creating conditions for prosperity.
Through the provision of innovative training and networking opportunities, the CIFAL Global Network contributes to build capacities of local government officials and leaders to plan and design cities in a sustainable way, improve the provision of public services and infrastructure, and prepare cities to be resilient, among many others.
---
Economic Development
Creating economic opportunities, generating good and decent jobs and ensuring equitable growth are essential to eradicate poverty and remain a top priority in the path to sustainable development. A second priority is to constantly raise productivity so that growth generates more growth. This certainly requires skills development, policies that support micro, small and medium size enterprises, enhanced capacities to innovate, and a stable environment that enables businesses to prosper.
CIFAL Centers facilitate the exchange of innovative solutions that promote economically productive cities that are socially inclusive and environmentally sustainable.
---
Social Inclusion
Social inclusion, understood as both a process and an outcome, is about improving the terms in which individuals, regardless of their race, ethnicity, disability status, age, sexual orientation, and religion, take part in society and share prosperity.
Socially inclusive policies and programs aim to empower vulnerable and marginalized groups to take advantage of opportunities and enjoy equal access to education, health services, technologies, employment, as well as to have a voice in decision making processes that will impact their lives.
Inclusion and equality are at the core of sustainable development. Understanding this challenge, the CIFAL Global Network provides training and opportunities for transfer of expertise with the objective of strengthening the capacities of government authorities and policy makers to develop and implement strategies towards social inclusion.
---
Environmental Sustainability
Unsustainable patterns of growth and consumption, environmental degradation, pollution, and over-exploitation of our natural capital compromise the well-being of future generations and ultimately, hinder economic progress.
The challenge for every country is to ensure growth that is socially inclusive and environmentally sound. Governments, businesses and the community as a whole have an important role to play to address this challenge. Governments should explore policy options for green growth, promote innovation and provide incentives that lead to a responsible use of natural assets. Green growth policies together with innovation may drive further economic gains in the long-term. Corporations can develop new technologies and innovative products that take into account the impact on the environment. Communities must also be environmentally aware and responsible by moving towards sustainable consumption behaviors. At the same time and as countries urbanize, local governments need to design and plan efficient systems that ensure adequate provision of food, water, energy, and transportation services without overusing natural resources.
CIFAL Centers assist local governments and communities to develop solutions and policies that increase food security, build resilience to climate change, improve energy efficiency, and address their own development needs.
---
2030 Agenda for Sustainable Development
This agenda is a plan of action for people, planet and prosperity. The goals and targets will simulate action over the next 15 years. The CIFAL Global Network is dedicated to help governments and other stakeholders build capacity to mainstream, implement and review Agenda 2030.