Each CIFAL specializes in thematic areas that are defined by the needs and priorities of the regions they serve. Their training programs provide access to knowledge, resources and best practices, while promoting multi-stakeholder collaboration in support of sustainable development.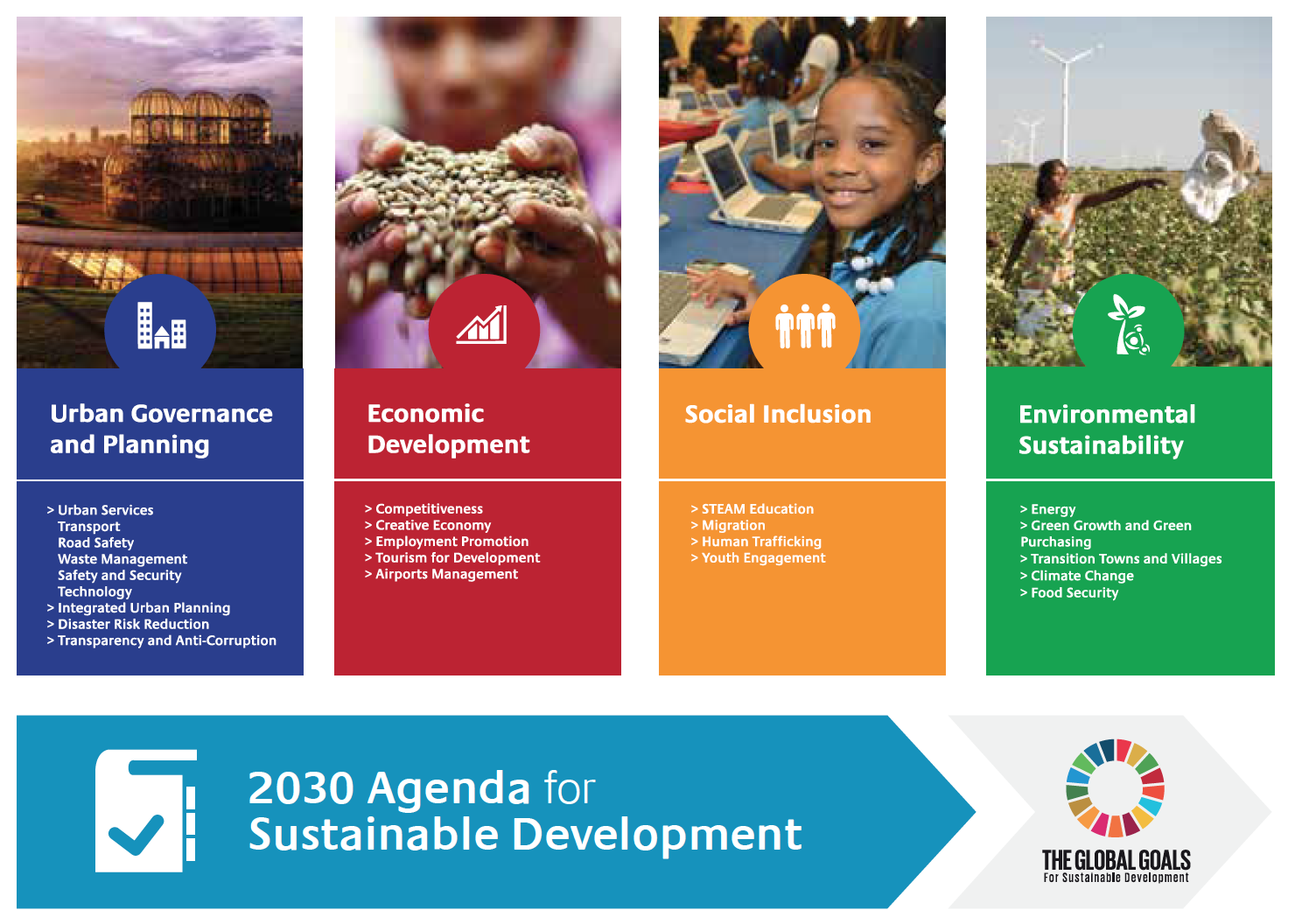 ---
Capacity for the 2030 Agenda
This agenda is a plan of action for people, planet and prosperity. The goals and targets will simulate action until 2030. The CIFAL Global Network is dedicated to help governments and other stakeholders build capacity to mainstream, implement and review Agenda 2030.
UP CIFAL Philippines specializes in training and research on migration and development and gender equality, and how these two themes are located within the overarching framework of the 2030 Agenda for Sustainable Development. These thematic areas were chosen as the focus of the work of UP CIFAL Philippines based on the relevance of the sustainable development goals (SDGs) in local, national, and regional development plans, the importance of the issues of international migration and gender equality in the regional context, and the expertise developed by state and non-state actors in addressing these concerns at the policy and programs levels.
Social Inclusion
Social inclusion, understood as both a process and an outcome, is about improving the terms in which individuals, regardless of their race, ethnicity, disability status, age, sexual orientation, and religion, take part in society and share prosperity.
Socially inclusive policies and programs aim to empower vulnerable and marginalized groups to take advantage of opportunities and enjoy equal access to education, health services, technologies, employment, as well as to have a voice in decision making processes that will impact their lives.
Inclusion and equality are at the core of sustainable development. Understanding this challenge, the CIFAL Global Network provides training and opportunities for transfer of expertise with the objective of strengthening the capacities of government authorities and policy makers to develop and implement strategies towards social inclusion.
As part of its mandate to build the capacities of local authorities in the fields of migration, gender and sustainable development, UP CIFAL Philippines has developed three training courses outlined below:
Migration Crisis Management 
This program provides a comprehensive intervention to enable various sectors to understand the fundamentals of migration crises and how to effectively respond to the different phases of crisis. The training also introduces global- and country-level management frameworks, describes different types of crisis, and discusses operational protocols, strategic networks and resource requirements, as well as management competencies necessary for effective migration crisis response.
Migration Data Analysis
The program offers an appreciation of international migration data collection, utilization, and analysis with the end goal of teaching policymakers and other stakeholders the value of statistics in policy formulation and program development, whether at the local, national or regional level. The course focuses especially on migration-related SDG, target and indicators.
Dynamics of Gender and Sustainable Development 
This training course emphasizes that "the feminization of labor migration" is a sharp indicator of why women matter in all levels of development planning. It also proposes that the intersection of gender, labor governance, and international migration must be a central component of policy formulation toward achieving the targets of sustainable development goals. The program discusses the general situation of female workers and analyzes the opportunities and vulnerabilities associated in working for various industries and service sectors.
Economic Development
Creating economic opportunities, generating good and decent jobs and ensuring equitable growth are essential to eradicate poverty and remain a top priority in the path to sustainable development. A second priority is to constantly raise productivity so that growth generates more growth. This certainly requires skills development, policies that support micro, small and medium size enterprises, enhanced capacities to innovate, and a stable environment that enables businesses to prosper.
CIFAL Centers facilitate the exchange of innovative solutions that promote economically productive cities that are socially inclusive and environmentally sustainable.
Inclusive business is one of UP CIFAL Philippines' focal areas to help achieve the United Nations' sustainable development goals (SDGs), such as SDG 1 (No Poverty), SDG 2 (Zero Hunger), SDG 8 (Decent Work and Economic Growth), SDG 10 (Reduced Inequalities), SDG 12 (Responsible Consumption and Production, and SDG 17 (Partnership for the Goals). The United Nations Development Programme defines inclusive business as involving "people living in poverty as producers, consumers, employees or business partners along the value chain." In 2018, UP CIFAL Philippines conducted a series of forums in UP campuses nationwide to promote inclusive business.